Industrial steamroller to be used for April 9 printmaking event on SU Quad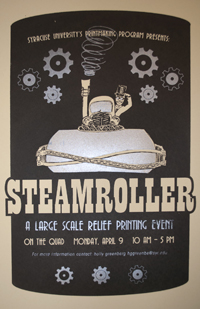 The printmaking program in Syracuse University's College of Visual and Performing Arts (VPA) will present its fifth annual "Steamroller Printing" event on Monday, April 9, from 10 a.m.-5 p.m. in a tent on the Kenneth A. Shaw Quad in front of the Dorothea Ilgen Shaffer Art Building. The event is free and open to the public. Parking is available in SU pay lots.
Throughout the day, students and faculty in the printmaking program will print impressions of large-scale woodblock prints using an industrial steamroller. They will sling ink and make finely rolled editions of relief prints.
The printmaking program is located in VPA's Department of Art and includes courses in relief, intaglio, lithography, silkscreen, letterpress printing, hand papermaking and book arts. The program offers both bachelor and master of fine arts degrees; the graduate program was recently ranked No. 19 in the nation by U.S. News & World Report as part of its 2013 specialty rankings for Best Graduate Schools in Fine Arts.
For more information, contact Dusty Herbig, assistant professor of printmaking, at dtherbig@syr.edu.