Arts & Culture
Connective Corridor buses transform into performance spaces
Over the next two weeks, passengers on board select Connective Corridor buses will get a taste of the arts. Three buses will feature artists at work as part of the "'In Motion' series."  The acting, poetry and dance performances will take place on the Corridor bus along Route 443.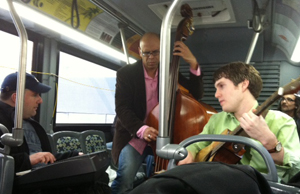 As part of Acting in Motion, local high school actors from the Media Unit will perform scenes from the original production of "Severely Normal."  The performances will take place April 9, 11 and 13 at 1 p.m., from the Learning Center, 422 Gifford St. Walt Sheppard of the Media Unit partnered with Tamo Palermo of Outliers of Fresh Air Window Gallery for the Media Unit performance. Artwork from the gallery will also be displayed on Corridor buses this month. For more information on Breath of Fresh Air Window Gallery, visit www.facebook/com/bofagallery.
"These events are completely unique," says Francesca Merwin, communications coordinator for the Connective Corridor.  "It's our version of flash mobs happening in other cities.  You hop on the free Connective Corridor bus and there's a chance you'll see something really unique."
As part of Poetry in Motion, students in Kevin Morrison's Literary Urban Studies class will give poetry readings April 10 at 12:57 p.m., on the bus leaving from College Place.  Morrison came up with the idea to get his students involved in the Connective Corridor. The students will read poetry about the history of Syracuse from different genres.
And as part of Dancing in Motion, a musical performance by Puente Flamenco Dance Troupe will take place Thursday, April 19, at 5:10 p.m., from Goldstein Student Center.  The performance will feature rhythmic hand clapping, drumming and guitar.  Puente Flamenco reached out to the Corridor to partner to get their pictures on the Corridor bus, just like with Breath of Fresh Air Gallery. They put on an event at Cafe Kubal downtown, and SU photography students documented the event. The images will be up on a Corridor bus throughout June and July.  For more info on the photography that's on the bus, check out this story: http://connectivecorridor.syr.edu/2011/11/21/corridor-buses-transform-into-moving-art-galleries/.
"It's wonderful to see the Corridor buses transform to mobile performance spaces," says Merwin.  "Our partnerships with organizations across the city have made the 'In Motion' series incredibly successful, and we're really happy to be putting on three events this month."
Two "In Motion" events were previously hosted in December and January involving the Bill Horrace Trio and Verbal Blend Poetry group.