Give blood and 'donate in protest' of the FDA MSM ban
Syracuse University's Division of Student Affairs is continuing its Blood Drive Activism campaign at the blood drive on April 4 in the Schine Student Center, from 11:30 a.m.-5:30 p.m. Participants will be asked to "donate in protest" of the U.S. Food and Drug Administration (FDA) blood ban on men who have sex with men (MSM) by signing a postcard that encourages the FDA to end the ban.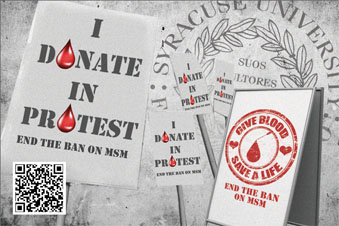 The campaign aims to educate the SU community on the MSM ban, which has been in effect since 1983. It defers as blood donors any men who have had sex with other men at any time since 1977. Although there have been numerous calls for the ban to be lifted in recent years, it still remains in effect.
"The MSM ban was put into place before the FDA had proper knowledge of the Aids and HIV outbreak," says Robert DiGangi, graduate student in School of Education. "It is such an important topic to bring to people's attention because it is the only blood ban that specifically targets an identity group."
At the drive on April 4, postcards will be available at a table staffed by students from Pride Union and the LGBT Resource Center. Signed postcards will be mailed to the FDA. Campus and local community members are also invited to participate by signing an online petition at BloodDriveActivism.syr.edu.
"Blood drive activism is important to me not only because it saves lives, but because the MSM ban is something that most college students don't seem to have knowledge on," says Amanda Cruz, junior sociology, and communication and rhetorical studies major. "There are not a lot of students doing this type of social justice work, which makes it even more important to do."
Inspired by SU's Blood Drive Activism campaign, Skidmore College has decided to implement a campaign of its own on their campus. Members of Skidmore's Student Association are using SU's postcard and online petition as a model for their campaign.  
"As we continue to work towards and strive for a more inclusive world, it is important to raise awareness about this activism campaign," says Tiffany Gray, associate director for the LGBT Resource Center. "Despite the varying levels of knowledge regarding the ban on MSM, I hope that we can work in solidarity because this impacts our entire community."
For more information on the Blood Drive Activism campaign, contact Jill Ouikahilo, director of communications for the Division of Student Affairs, at 443-8568 or jcouikah@syr.edu.