Emmy Foundation honors Newhouse students with College Television Award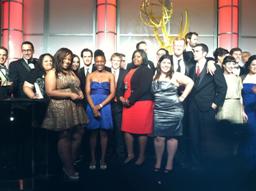 "The Complex," a six-episode drama created by television-radio-film (TRF) students in Syracuse University's S.I. Newhouse School of Public Communications, has been honored with an Academy of Television Arts & Sciences Foundation College Television Award for Outstanding Narrative Series. This is the second time TRF students have received the award. 
Students Jasmine Alston and Elliott Regan accepted the award on March 31 in Hollywood, Calif. 
"This is the 'national championship' of college-level television production," says TRF chair Michael Schoonmaker. "These students not only wrote and produced a thrilling story, they also created an innovative production style employing new DSLR [digital single-lens reflex] technology along with some very gutsy camera moves. I couldn't be more proud of them!" 
The series was produced as part of the Television Production (TRF 452/652) course at Newhouse, taught by Schoonmaker. It can be viewed on YouTube.
Students include: Alston, executive producer; Nick Brown, director; Milvionne Chery, producer; Deborah Cohen, editor and set designer; Lindsay Cohen, art director and editor; Brittany Dandy, producer; Sullivan Fitzgerald, writer; Josh Frackleton, director; Heather Gately, set designer; Jude Gesek, writer; Shana Lawrence, head writer; Ryan Little, writer; Andrew Loane, line producer; Kristina Mazzarelli, line producer; Pat McGuinness, director; Andrew Potoczak, writer; Regan, star and music designer; Joshua Rivera, writer; Jake Rosen, production manager; Charlie Roth, writer; Kelsie Testa, production manager; Erika Bertu, "Standards and Practices" (Classroom TA); Andrea Hall, "Standards and Practices" (Studio TA). 
For more information, contact Schoonmaker at (315) 443-9240 or msschoon@syr.edu.