Asian Pacific American Heritage Month culminates with lecture on cross-cultural leadership
The Office of Multicultural Affairs, within the Division of Student Affairs, is bringing Judy Shen-Filerman, founder and principal of Dreambridge Partners, to campus on Tuesday, April 24, to conclude SU's celebration of Asian Pacific American Heritage Month. Shen-Filerman will give a presentation on "The Voice of Leadership as an Asian-American" at 7:30 p.m. in the Heroy Auditorium, located in the Geology Building. The event is co-sponsored by Career Services. It is free and open to the public.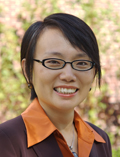 As founder and principal of Dreambridge Partners, Shen-Filerman has built a cross-cultural leadership development firm focused on cultivating success for students, professionals and teams, with expertise in working with Asian and international individuals. Her practice builds on three critical capacities: self-aware leadership, contextual communications and collaborative interpersonal relationships.
Shen-Filerman is an accomplished business leader, consultant and entrepreneur with an expansive 20-year career. A Harvard College and Harvard Business School graduate, she has held innovations-oriented marketing management positions for the world's top consumer brands, including, Procter & Gamble, Campbell Soup Asia and Polaroid. As vice president of marketing for the U.S. Professional and Business Division at Polaroid, Shen-Filerman overhauled the division's marketing mission, strategy and organization, including launching its first online business.
Her coaching approach is strongly informed by her experience as a bilingual, immigrant, Chinese-American woman who has achieved cross-cultural success throughout her life. She leverages interpersonal communications as the platform for bridging culturally diverse people towards shared outcomes.
For more information, contact Huey Hsiao, associate director for the Office of Multicultural Affairs, at huhsiao@syr.edu or 315-443-9676.