SU College of Law celebrates Commencement May 11; welcomes former U.S. Vice President Dan Quayle as speaker
Syracuse University College of Law will celebrate its Commencement on Friday, May 11, at 1 p.m. in the Carrier Dome. Former U.S. Vice President Dan Quayle will serve as the Commencement speaker.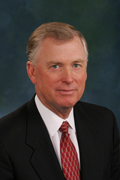 Quayle is the chairman of Cerberus Global Investments with offices in Asia, Europe and New York City. He has been with Cerberus since 1999. Cerberus is a private equity company with $25 billion under management. Cerberus also has an asset-based lending company, Ableco Finance, which originates $5 billion of loans annually, and a $2 billion real estate fund, Cerberus Real Estate.
Quayle's political career includes election to Congress in 1976, at age 29; to the Senate in 1980, age 33; and election as vice president of the United States in 1988, age 41. He served as the 44th vice president under President George Herbert Walker Bush.
Prior to joining Cerberus and after his vice presidency, Quayle authored three books: "Standing Firm" (HarperCollins, 1994), a vice-presidential memoir that was on the New York Times bestseller list for 15 weeks; "The American Family: Discovering the Values that Make Us Strong" (HarperCollins, 1997); and "Worth Fighting For" (Thomas Nelson Publishers, 2004).
He has been an active international public speaker and he has served on many boards, both private and public. He established and sold an insurance business in Indiana. For two years, he was a distinguished visiting professor of international studies at Thunderbird, the American Graduate School of International Management.
He earned a bachelor's degree from DePauw University in 1969 and a juris doctor degree from Indiana University School of Law Indianapolis in 1974.
Additional details may be found at www.law.syr.edu/commencement.
Family and friends of SU College of Law graduates are welcome to watch the May 11 Commencement ceremony via a live video at 1 p.m.