Conference to explore 'Crime and Punishment'
From secret prisons to human trafficking to the rights of detainees, what are the latest issues in legal policy and courtroom decisions? Join the Syracuse Law Review and SU College of Law community on Saturday, April 21 in Grant Auditorium for a conference, "Crime and Punishment: The Modern Development of Homegrown Creative Justice" that will bring together legal scholars and military leaders for discussions the issues that have become vital to our national security conversation.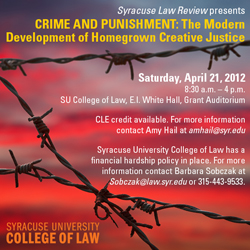 The free conference begins at 9 a.m. and parking is available in the Irving Garage. CLE credit is available.
"This conference will be a unique opportunity for academics, legal professionals and students to come together and think about the overarching question for this conference: Are the policy initiatives that are being enacted by our government truly reaching a just result?" says Amy Hail, third-year law student and lead articles editor of the Syracuse Law Review.
For more information, visit the Syracuse Law Review Facebook page or contact amhail@syr.edu.