Ceramic artist Margie Hughto to give preview of Centro Transit Hub light sculpture April 25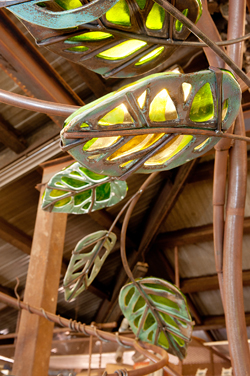 Margie Hughto, an internationally renowned ceramic artist and professor of ceramics in Syracuse University's College of Visual and Performing Arts, will offer the public a preview of the light sculpture she designed and created specifically for the new Centro Transit Hub on Wednesday, April 25, from 5-7 p.m. at SU's Comstock Art Facility, 1055 Comstock Ave. The event is free; parking is available in the Manley lot.
The sculpture, which is made of metal, clay and glass, will be installed this spring in preparation for the June opening of the hub, which is located at the corner of Adams, South Salina, and South Warren streets in Syracuse. The sculpture measures 17½ feet wide, 8½ feet deep and 6½ feet tall, and will hang over the Centro information booth. Hughto was assisted by artists Ron DeRutte and Carmel Nicoletti in the creation of the sculpture; all three artists will attend the preview.
Hughto has been included in numerous exhibitions since the 1970s, and has completed permanent public artworks across the country, including a monumental ceramic painting located in a subway stop in Buffalo, N.Y. Her panoramic "Trade, Treasure and Travel," a series of ceramic murals installed two levels beneath New York City's World Trade Center in 1998, miraculously survived the Sept. 11 terrorist attacks unharmed. The work was recently reinstalled at the Cortlandt Street station in conjunction with the 10th anniversary of 9/11.
Last fall, Hughto presented her first site-specific museum installation, "A Fired Landscape"—a ceramic work spanning 50 feet of gallery wall space—at the Everson Museum of Art in Syracuse. She is also creating additional site-specific artwork for the Centro Transit Hub.