Award-winning memoirist concludes Spring 2012 Raymond Carver Reading Series
Kelle Groom will read from 'I Wore the Ocean in the Shape of a Girl'
Kelle Groom, author of the memoir "I Wore the Ocean in the Shape of a Girl" (Free Press/Simon and Schuster, 2011), will conclude the Spring 2012 Raymond Carver Reading Series, Wednesday, April 25, in Gifford Auditorium. The reading will begin at 5:30 p.m. and be preceded by a question-and-answer session from 3:45-4:30 p.m. The event is free and open to the public. Parking is available in SU's pay lots.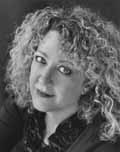 An Oprah.com O Magazine selection and hailed by critics as a "piercing, intimate and mind-altering experience," "I wore the Ocean in the Shape of a Girl" explores the most painful aspects of Groom's "addiction and loss with unflinching honesty and bold determination. Her story is as much about maternal love as it is about survival, as much about acceptance as it is about forgiveness. Groom charts the journey that led her to accept her addiction and grief and to learn how to live in the world."
In a 2011 review, NPR's Rachel Syme wrote: "When the author has been through enough to have learned some big lessons and has the chops to express them well, the result can be exhilarating. Such is the case with . . . 'I Wore the Ocean in the Shape of A Girl' . . . The bare bones of the plot are certainly gripping—the loss of a son she never knew, the lifelong grieving process and investigation of that loss—but it is Groom's writing that stakes out the book's place in the genre and, in ways, seeks to elevate it."
The memoir received a Library Journal Best Memoir 2011 selection, a New York Times Book Review Editor's Choice, and an Oxford American Editor's Pick, among other distinctions. Also a poet, Groom has published collections including "Five Kingdoms" (Anhinga Press, 2010), "Luckily" (Anhinga Press, 2006) and "Underwater City" (University Press of Florida, 2004). Her poetry has appeared in "Best American Poetry 2010," The New Yorker, Ploughshares and Poetry, among others, and has received special mention in the "Pushcart Prize 2010" and "Best American Non-Required Reading 2007" anthologies. She is the recipient of a number of fellowships and a 2010 and a 2006 Florida Book Award.
Groom is a distinguished writer-in-residence (2012-2013) in the Sierra Nevada College, English department, and is on the faculty of the college's low-residency M.F.A. Program. Former poetry editor of the Florida Review, she is now a contributing editor.
Named for the great short story writer and poet who taught at SU in the 1980s, the Raymond Carver Reading Series is a vital part of Syracuse's literary life. Presented by the Creative Writing Program in The College of Arts and Sciences, the series each year brings 12 to 14 prominent writers to campus to read their works and interact with students.