'Waste Land' documentary to screen on April 17
What happens in the world's largest city of trash? Find out at the screening of "Waste Land," a mesmerizing look at the extent of recycling that's possible and the transformative power of art. "Waste Land" will be shown on Tuesday, April 17, at 7 p.m. in Watson Theater in the Menschel Media Center as part of the SU Showcase for Sustainability 2012 documentary series. Admission is free and open to the public.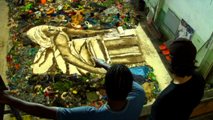 A winner of more than 30 awards and an Academy Award nominee for best feature documentary, the film follows Brooklyn artist Vik Muniz's journey back to his native Brazil and the world's largest garbage dump, Jardim Gramacho, located on the outskirts of Rio de Janeiro. In taking portraits of the band of "catadores"—self-designated pickers of recyclable materials—Muniz is inspired to sell the pieces, giving all proceeds back to the people of Jardim Gramacho.
Jardim Gramacho accounts for more than 70 percent of Rio de Janeiro's trash, and Muniz sets out to change the lives of a group of people with the same materials that they deal with every day. From dignity to despair, every perspective of the recycling process at this massive landfill is captured.
Throughout this three-year journey, Muniz is more concerned with the human subjects than the artistic process. Still, the astounding power of art is reassured when viewers witness one catadore's overwhelming reaction to a photo of him in a tub of garbage that is sold for $50,000.
Through the recycling of art and hope, Muniz's film inspires and deeply moves audiences. One's garbage is another's recycled treasure, and yet another's confirmation of hope.
Complimentary refreshments will be provided, so please remember to bring your reusable cups, bottles, bowls, plates, utensils, etc., as this is a zero-waste event!
"Waste Land" is the final screening in the SU Showcase for Sustainability documentary series. The all-day SU Showcase event will take place on Wednesday, April 18, in Syracuse University's Schine Student Center. This celebration of SU and SUNY-ESF students' green works is also free and open to the public. Check out the complete event schedule at http://sushowcase.syr.edu/Schedule.html, and follow SU Showcase on Facebook and Twitter #GreenSU for the latest updates.