White Ribbon Campaign ribbons, wristbands still available across campus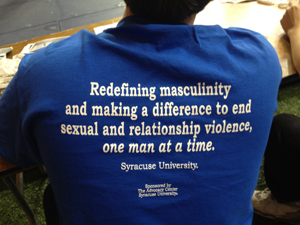 The 2012 Vera House White Ribbon Campaign continues to gain momentum as it closes in on the remaining few weeks of the campaign. Fostered by the Division of Student Affairs, this University-wide initiative involving offices and individuals across campus has made significant progress in achieving its goals of raising awareness about domestic and sexual violence, educating the SU community and raising funds for programs at Vera House, but there is still more work to be done.
White ribbons and wristbands that say, "No Excuse for Abuse," are available for purchase at the following locations on campus for $1 each:
Erin Schaal, FIXit, Carriage House, Farm Acre Rd.
Linda Flynn, FIXit, Carriage House, Farm Acre Rd.
Susan Germain, Office of Special Events, 138 Women's Building
Patricia Stith, Academic Affairs, 323 Crouse Hinds Hall
Peg Fitzpatrick, Budget & Planning, Skytop Office Building
Ginny Yerdon, Hendricks Chapel, Hendricks Chapel
Shirley Thornton, Auxiliary Services, 206 Steele Hall
Drew Buske, DPS, 005 Sims Hall
Bob Britton, Physical Plant, 037 Schine Student Center
Cyndi Stetson, Physical Plant, 285 Ainsley Drive
Teresa Gilman, University Senate, 103 Steele Hall
Tina O'Mara, ITS, 1-133 Science Tech
Janine Bernard, School of Education, 259 Huntington Hall
Gretchen Goldstein, Chancellor's Office, 600 Crouse Hinds Hall
Mary Lerner, Arts & Sciences, 308 Hall of Languages
Sue Nemier, iSchool, 343 Hinds Hall
Bev Everding, Community Engagement, The Warehouse
Stephanie Vasta, Engineering & Computer Science, 223 Link Hall
Michelle Pirro, Falk School, 119 Euclid Ave.
Eileen Jevis, University College, 700 University Ave.
Diana Hahn, Enrollment Management, 222 Bowne Hall
Don Kilts, Newhouse, 164 Newhouse 2
Diane McKinney, SU Abroad, 106 Walnut Ave.
All monies raised will support Vera House education, awareness programs and services. Ribbons and wristbands can also be ordered for a department through the Student Affairs Dean's Office at 443-4263.
Under the leadership of campaign co-chairs Melvin Stith, dean of the Whitman School of Management, and Colleen Bench, director of the Parents Office, a number of special events and programs have been held in support of the campaign goals, as well as the distribution of more than 2,500 wristbands and ribbons. Highlights of past activities and upcoming efforts include:
The PRIDE Office in the L.C. Smith College of Engineering and Computer Science collected donations of toiletries, paper products and school supplies for Vera House, and sold ribbons as part of National Engineers Week;
Several students from the student organization A Men's Issue (AMI) staffed a table and sold ribbons in the Carrier Dome backcourt during the men's basketball game versus Marquette;
Bird Library sponsored an educational event with speakers from the Advocacy Center and Vera House, and also sold ribbons;
Residence halls are sponsoring a competition to sell wristbands, while educating students about sexual and domestic violence; 
Student Association is organizing multiple activities among the various student groups to sell ribbons and raise awareness; 
Fundraising and educational events are to take place during Greek Week and Take Back the Night in April.
Vera House's White Ribbon Campaign is led by concerned men who encourage and invite all members of the community—men and women, young and old—to pin on a ribbon and join them in raising awareness and funds to end domestic and sexual violence. This male leadership helps to acknowledge the important contributions men have made to this effort and invites others to take a role.
For more information about the White Ribbon Campaign and Vera House, visit www.verahouse.org.