Tsao and McKown: Architecture visiting professors to lecture, exhibit
Calvin Tsao and Zack McKown, co-partners of New York City's Tsao and McKown Architects and spring 2012 visiting critics, will speak at the Syracuse University School of Architecture on Tuesday, March 20, at 5 p.m. in Slocum Hall Auditorium. Their lecture, "Serving Conscience," is free and open to the public. The firm is known for its eclectic design approach and avid preoccupation with the state of the built environment. In 2009, Tsao and McKown received the Cooper-Hewitt National Design Award for Interior Design.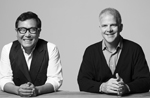 From April 17-May 9, an exhibition by Tsao and McKown will be on display in Slocum Gallery. The pair will explore the myriad layers of contexts, collaborations and other considered complexities inherent in their approaches to eight projects ranging in scale from an urban plan in Chengdu, China, to the design of a lipstick case for the Japanese cosmetics master Shu Uemura. The exhibition will be open to the public Monday-Friday, 9 a.m.-5 p.m. An opening reception and gallery talk will take place on April 17 at 5 p.m.
Tsao has a master's of architecture from Harvard University Graduate School of Design, and a bachelor's of architecture from University of California at Berkeley. He has emerged as one of the most original voices in contemporary architecture, drawing from his own experience of diverse cultures and a lively engagement with a variety of art forms. He is president emeritus of the Architectural League of New York. As a fellow of the American Institute of Architects, Tsao has taught at the Harvard Graduate School of Design, the Parsons School of Design and the Cooper Union, and has served as guest critic and design juror at universities and institutes nationwide.
McKown has a master's of architecture from Harvard University Graduate School of Design and a bachelor's of general studies from the Honors College at the University of South Carolina. He has been widely recognized for his innovations in the fields of urban design and architecture, interiors, furniture and product design. He serves on the board of directors of the Design Trust for Public Space, a not-for-profit dedicated to improving public space in New York City, and is a fellow of the American Institute of Architects. He helped to found nonprofit desigNYC to help reinvigorate local communities in need.
This semester at Syracuse Architecture, Tsao and McKown are teaching a studio in conjunction with urban and architectural designer John Jhee (also from Tsao and McKown Architects) to explore new models of urban habitation in China through the planning and design of a mixed-use residential development in the city of Dalian. During spring break, students are traveling to China for a site visit.