VPA's John Thompson to exhibit original art of 'The Flying Bed' at SU Florence
John Thompson, a professor of illustration in Syracuse University's College of Visual and Performing Arts (VPA), will exhibit original art from the picture book "The Flying Bed" (The Blue Sky Press, 2007) at SU Abroad's center in Florence, Italy, March 11-17. Thompson, who won the Society of Illustrators' 2006 Hamilton King Award for best illustration of the year for a painting in the book, will deliver a lecture on the book's creation to SU Florence students and faculty on March 14. A reception will be held March 15.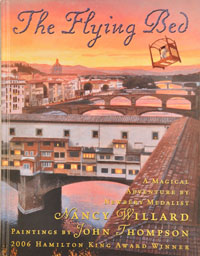 "The Flying Bed" exhibition will include the original paintings reproduced in the picture book, which was written by Nancy Willard, plus selected drawings and research materials. The exhibition is coordinated by Nick Kraczyna, faculty member and coordinator of SU Florence's art department.
Mike Calo, associate director at SU Abroad, who served as interim director of SU Florence in 2010-11, originally suggested the idea for the exhibition.
"John was kind enough to do a lecture on his work at SU Florence last year," says Calo. "It was a huge success. I asked him if he wanted to come back and do a show highlighting his work on 'The Flying Bed.' This joint effort between VPA and SU Florence will be well worth it."
Thompson has exhibited his work widely, including the recent solo show "India" at the Society of Illustrators' Members Gallery in New York City. He also recently created paintings for "Dogs at Work," a series of U.S. postage stamps celebrating canine coworkers. He has won numerous gold and silver medals for his illustrations, and as a children's book illustrator he has won several American Library Association Notable Book Awards. He is included in Walt Reed's "The Illustrator in America: 1860-2000" (The Society of Illustrators, 2001).