Student entrepreneurs network, inspire and compete for seed funding at Emerging Talk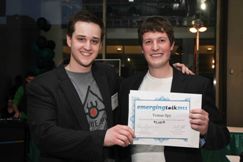 It's not easy to be a full-time student while holding down a job, let alone also create that job you're holding down.  It's not easy to solve math and chemistry problems, let alone decide which of the world's problems are worth solving and figure out how to do that.  It's not easy to convince parents to send money, let alone convince judges and investors that you, a college student, are worth taking a risk on.  
None of this is easy, but there are plenty of students who are taking on the challenge. 
Where do you find these students?  How do these students meet others who routinely disrupt the status quo?  And how does a college student get funding to get a venture off the ground? 
It's all at Emerging Talk on March 29 and 30.  Emerging Talk is an entrepreneurial conversation created by students for students to share successes and failures, network with investors, find potential co-founders and teammates, and win cash prizes.  Each year, Emerging Talk has drawn more than 250 attendees, half of which are students with ideas or ventures.  This year's event will be even bigger. 
"Emerging Talk has become the annual event that student entrepreneurs talk about and look forward to," says Elizabeth Ruscitto, graduate student in the iSchool and this year's Emerging Talk organizer.  "Connections are made at Emerging Talk that lead to new ideas, businesses and partnerships.  Students who come just to see what the buzz is all about leave inspired to turn their ideas into reality." 
Emerging Talk is a two-day, student-run entrepreneurship conference that will be held in Newhouse 3 this year.  The event is free and open to the public. Anyone with a business idea, a current business, an interest in the entrepreneurial scene in Central New York, or who is a resource to businesses should come.  Attendees can register at http://emergingtalk.com/.  There will be food, a student business showcase, cash giveaways and seed funding competitions for students. 
This year there are two seed funding competitions at Emerging Talk: the Raymond von Dran Innovation and Disruptive Entrepreneurship Accelerator Awards (RvD IDEA) and the L.C. Smith College of Engineering and Computer Science Invention and Creativity Competition.   
The RvD IDEA Awards were created in 2009 to help Central New York college and university students start ventures.  It is now the largest startup funding competition for student entrepreneurs, both in terms of amount of funding awarded and number of competition submissions, in New York state.  This year, Syracuse University, Clarkson University, Le Moyne College, Cayuga Community College, and the SUNY College of Environmental Science and Forestry are angel sponsors of the RvD IDEA Awards; therefore, all of their students are eligible for the competition. 
At Emerging Talk 2011, 12 student startups won a combined $70,000 in seed funding at the RvD IDEA Awards competition.  Student companies comprise an interdisciplinary mix of student talent, representing a diverse range of majors, including architecture, biology, information management, music industry, advertising design, accounting and public relations. 
"One of the most exciting aspects of the IDEA Awards is that they directly support student entrepreneurs in Central New York," said Syracuse University associate provost for entrepreneurship and innovation Bruce Kingma.  "Our hope is that these companies remain in the area after the students graduate to help build a thriving community that is passionate about innovation and entrepreneurship." 
The second annual L.C. Smith Invention and Creativity Competition, a contest to encourage engineering students to apply their training and skills to create novel, commercial product ideas, is a natural fit for Emerging Talk.  
"We want to encourage our students to work on innovative projects and we want to support them in taking inventions from concept to reality," says Andrew Darling, assistant professor of biomedical engineering in the L.C. Smith College of Engineering and Computer Science and the competition's organizer.  "This competition represents a great opportunity for all L.C. Smith students to bootstrap their ideas into the real world, as well as gain experience in presenting their ideas in an entrepreneurial context." 
Teams comprised of at least one LCS student will be competing in the Invention and Creativity Competition.  Several student teams will be competing in both the LCS competition and the RvD IDEA Awards. 
"Although Emerging Talk is a conversation, it's not just about talking; it's about what happens afterward," says Ruscitto.  "If you get the right people in the same room, good things start to happen." 
For more information or to get details on registration, visit http://emergingtalk.com/.