Stone Canoe seeking submissions for seventh edition, announces guest editors
Submissions of visual art, short fiction, creative nonfiction, poetry, and short plays are now being accepted for the seventh edition of Stone Canoe: A Journal of Arts, Literature, and Social Commentary. The deadline for submissions is July 15. To submit work, go to www.stonecanoejournal.org and access the online submissions link.  
The sixth edition of the award-winning Stone Canoe is now available for purchase in local bookstores and online. The e-book version of the journal is also available through the journal's website.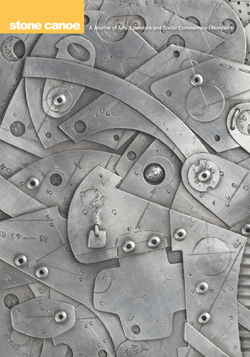 The journal features the work of more than 140 artists and writers with ties to Upstate New York, ranging from those with international reputations to those who have not previously published or exhibited their work.
Annual prizes are awarded for submissions in fiction, nonfiction, engineering and technology writing, poetry, visual arts, and arts leadership.
Beginning in 2013, the Institute for Veterans and Military Families (IVMF) at Syracuse University will award the Institute for Veterans and Military Families Prize for Written Work by a Veteran. The prize will be awarded annually to a U.S. veteran for a previously unpublished short story, essay, creative nonfiction piece, or a series of three poems.
The 2012 Stone Canoe prizes were announced in January:
The Allen and Nirelle Galson Prize for Fiction was awarded to former journalist Jennifer R. Adams, a lecturer in English at Cornell University.
The Bea González Prize for Poetry was awarded to Bridget Meeds, a poet and teacher from Ithaca.
The Hedy and Michael Fawcett Prize for Visual Arts was awarded to Alexandria Smith, an SU alumnus who lives and teaches in Brooklyn, N.Y.
The S.I. Newhouse School Prize for Creative Nonfiction was awarded to Tina Post, who is currently working on a book on boxing and race in America.
The L.C. Smith Prize for Engineering and Technology Writing was awarded to Brian Rautio, a Ph.D. candidate majoring in electrical engineering at SU.
The Burton Blatt Institute (BBI) Prize for Arts Leadership was awarded to Sharon Greytak, a professor of practice in Art, Design, and Transmedia at SU's College of Visual and Performing Arts. She has written, produced, and directed feature-length films, documentaries, and experimental shorts.
In addition to these winners, four students from the Syracuse City School District also received awards, which are sponsored each year by the Gifford Foundation.
Guest Editors
"We are pleased to announce the guest editors for the seventh edition of the Stone Canoe, who will join a stellar list of returning editors," says Robert Colley, senior editor of the journal. The next edition of Stone Canoe is scheduled to be published in January of 2013.
The guest editors are:
Nonfiction: Ken McClane, distinguished poet and essayist who is the W.E.B. Dubois Professor of Literature at Cornell University.
Fiction: E.C. Osondu, SU alumnus, internationally recognized author and winner of the Caine Prize who currently teaches at Providence College.
Poetry: Cornelius Eady, a Rochester, N.Y. native, prizewinning poet and librettist, co-founder of Cave Canem, finalist for both the National Book Award and the Pulitzer Prize, currently teaches at University of Missouri.
Visual arts: Amy Cheng, a nationally recognized painter and multimedia artist with public art installations in major American cities, and a professor of Art at SUNY New Paltz.
Brian Turner, Anthony Swofford, and Karl Marlantes were chosen as visiting jurors for the Institute for Veterans and Military Families Prize for written work by a veteran. Swofford, a Gulf War veteran, is the author of the acclaimed book, "Jarhead." Turner, an Iraq veteran, is a prizewinning poet, and Marlantes, a decorated Vietnam veteran, is the author of the acclaimed book "Matterhorn: A Novel of the Vietnam War."
Returning editors will include Neva Pilgrim and Steven Stucky for music writing, Megan Donaldson and Jerry Heller for technology writing, Kyle Bass for drama, and Nancy Keefe Rhodes for writing on the moving image.
For more information or to order the journal, visit http://www.stonecanoejournal.org, e-mail stonecanoe@syr.edu or call 315-443-4165.