Event to break down racial barriers features Joseph 'Rev Run' Simmons
The Theta Xi Chapter of Phi Beta Sigma Fraternity, Inc., and the Student African American Society (SAS) are hosting a collaborative event, titled "Race Relations" on March 21 in Gifford Auditorium. Hip-hop pioneer and reality TV personality Joseph Simmons, also known as "Rev Run," will be a featured panelist on the topic of "Race, Religion and Hip-Hop in the Modern World." The event is open to the public and begins at 7:14 p.m.—the "14" representing the year 1914, when the national chapter was founded. Doors open at 6:30 p.m. Tickets are available at the Schine Box Office.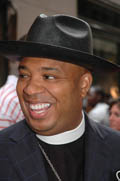 Race Relations is an annual event held by the brothers of the Theta Xi Chapter of Phi Beta Sigma Fraternity, Inc. The goal of the event is to break down the racial barriers on campus through a healthy discussion surrounding a topic that people can relate to.
Simmons is a pioneering musician, accomplished author, fashion mogul and star of MTV's hit reality show "Run's House." The man once known as the superstar rapper called "Run," from the Rock and Roll Hall of Fame group Run DMC, found a further, deeper calling and has re-emerged to the world as "Reverend Run. " Today, he shares his ministry with millions of fans both old and new, touching people worldwide through his written works, music, fashion and television endeavors.
For more information regarding this event, contact Donald Saint-Germain at dhsaintg@syr.edu.