SU named to 2012 President's Higher Education Community Service Honor Roll with Distinction
Syracuse University is one of only eight institutions in New York state to be named to the President's Higher Education Community Service Honor Roll with Distinction. SU has been named for the sixth consecutive year.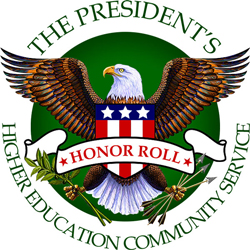 The honor roll, launched in 2006 by the Corporation for National and Community Service, recognizes colleges and universities nationwide that support innovative and effective community service and service learning programs. SU has received this recognition with distinction each year since the program's inception.
SU was recognized for the work done by the more than 10,000 students and 500 faculty and staff involved in community engagement during the 2010-11 academic year, supporting the University's vision of Scholarship in Action through 450 courses, programs or initiatives.
The scope of this work included collaboration on entrepreneurial projects; providing multiple kinds of literacy tutoring in schools, community-based organizations and churches; providing legal services to low-income clients; enhancing civic participation around relevant issues through public scholarship in the arts, humanities and design; creating innovative sustainable architectural designs and building models; and performing community benchmarking that helps local governments and nonprofits improve performance and accountability.
"Students, faculty and staff from across the University have earned this consistent distinction, profoundly reflecting SU's distinctive legacy of engaging the world," says SU Chancellor and President Nancy Cantor. "They have become expert at forging communities of experts that transcend campus and community boundaries, bring ideas to the table from multiple perspectives, and make a difference locally and globally."
"Clearly our institutional success engaging the world is dependent on the willing collaboration of our multiple partners both on and off campus," says Pamela Kirwin Heintz, associate vice president for engagement and director of the Mary Ann Shaw Center for Public and Community Service. "On behalf of the University, I extend my deep appreciation to all for their willingness to commit significant time and energy to these reciprocal partnerships."
This year's honor was achieved through efforts such as mapping/spatial analysis by geography students in the Maxwell School of Citizenship and Public Affairs that supports community-based outreach initiatives to improving quality of life, tackling consequences of urban decay, fostering revitalization and development in Syracuse and Central New York. Another effort, the SALT District of the Near West Side Initiative (NWSI), serves an entire neighborhood by creating comprehensive pipeline of programs supporting families and children, cultivating a culture of success rooted in passion, accountability, leadership and teamwork. Neighborhood schools benefit from programming that supports families through place-based solutions including job readiness/learning/economic opportunities to end the cycle of poverty in this sector of Syracuse.
During the program's first year, SU was named to the honor roll with distinction in two categories: general community service and a special category for Hurricane Relief Service. For the 2007 awards, SU was one of the top three national winners to receive the honor roll's highest recognition, the President's Award for Service to Youth from Disadvantaged Circumstances. SU's 2008 and 2009 awards were for service with distinction performed for a variety of service projects in conjunction with the University's Scholarship in Action vision.
Five institutions were given the Honor Roll's Presidential Award, which were presented in early March at the American Council of Education's ninth annual meeting in Los Angeles. Syracuse was one of 110 to be named to the Honor Roll with Distinction and part of a select group from New York. The colleges and universities on the Honor Roll represent 2.5 million students performing 105 million community service hours, with a $2.2 billion dollar impact overall on the nation. For a complete list of colleges and universities named, visit http://www.nationalservice.gov/honorroll.
The honor roll is sponsored by the President's Council on Service and Civic Participation and the U.S. departments of education, and housing and urban development, in partnership with Campus Compact and the American Council on Education.
The Corporation for National and Community Service is a federal agency that improves lives, strengthens communities and fosters civic engagement through service and volunteering. Each year, the corporation engages four million Americans of all ages and backgrounds in service through its Senior Corps, AmeriCorps and Learn and Serve America programs. For more information, visit http://www.nationalservice.gov.