'Power Surge' documentary screening on March 20
Can technology solve the energy crisis? Yes, it can! Join us to learn about the innovative solutions proposed to fix our energy problems at the showing of "Power Surge" on March 20 at 7 p.m. in Watson Theater in the Menschel Media Center. This is the second showing of the SU Showcase for Sustainability 2012 documentary series. Admission is free and open to the public.
Modern life is built on energy. We use it for tasks from heating to lighting and everything in between, as energy keeps us plugged into the world around us. All of this energy mainly comes from burning coal, oil and gas. Yet, there are better, cleaner ways to produce it.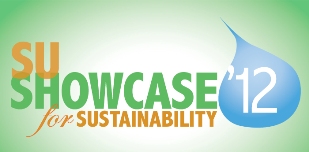 In this PBS primetime science series, NOVA travels the world revealing ways for us to get the energy we need while sustaining our environment and reversing climate change. From greening current technologies like coal and nuclear energy to emerging innovations like artificial trees and colossal wind installations, NOVA reveals the latest sustainable technologies.
Be a part of the clean energy revolution and learn about what needs to be done in order to produce cutting-edge, clean energy for the future. We created the problem and we have the power to solve it.
Refreshments will be provided, so don't forget your reusable cups, bottles, containers and utensils, as this is a zero-waste event.
"Greenlit," a documentary about creating a sustainable Hollywood movie industry, is the next film to be shown as part of the SU Showcase documentary series. "Greenlit" will screen on Tuesday, April 10.
SU Showcase for Sustainability is a campuswide event that celebrates students' greening strategies within the energy, entertainment and plastics sectors of the "green economy." The event will be held on April 18 and 19, and will feature sustainability fellows—students who share their video visions for a more sustainable future. For a chance to be recognized as a sustainability fellow, submit an application for the SU Showcase video competition here.  
To learn more about the SU Showcase documentary series, click here.