Point of Contact to exhibit 'time, again time'
The Point of Contact Gallery will present "time, again time," a show by Ana Tiscornia. An opening reception with the artist will take place March 23 at 6 p.m.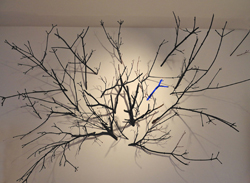 An activist and renowned Latin American artist, Tiscornia brings to Syracuse a mixed-media installation that curator Pedro Cuperman describes as "the outcome of a tale, where we have a fragmented world, where the pieces are somehow geometrically organic, logical … a kind of 'architecture of catastrophe.' It is about the artist's obsession with organizing her world after having lived through the tragedies of military dictatorships in her home land, and the present catastrophes, wars that we endure in our own time. Ana's work demands from the viewer a sort of reconstruction, reintegration of the work, and our world."
Tiscornia was born in Montevideo, Uruguay, and has resided in New York since 1991. She is an assistant professor at SUNY College, Old Westbury and art editor of Point of Contact, the book series.
Her selected solo shows include: "Solo Projects," ARCO 2009, Madrid; "On Location," Allegra Ravizza Art Project. Milan; "Tuning," Leo Fortuna Gallery, Hudson, New York; IX Bienal de la Habana, "Dinamicas de la cultura urbana," Havana, Cuba; "Noticias Breves," Centro Cultural Recoleta, Buenos Aires; "On Sites and Cites," Grayson Gallery, Woodstock, Vt.; "Parentesis en la ciudad," San Juan, Puerto Rico.
The Point of Contact Gallery is a member of the Coalition of Museum & Art Centers at Syracuse University. Punto de Contacto-Point of Contact is a New York tax exempt corporation supported through grants from the New York State Council on the Arts (NYSCA), SU's College of Arts & Sciences and members of Point of Contact's Patrons Program. For more information, call 315-443-2169.