Arts & Culture
Ping Chong & Company part of disabilities panel discussion at Newhouse
Syracuse University's ArtsEngage and the Goldring Arts Journalism Program welcome members of Ping Chong & Company for a panel discussion about its theatrical production "Inside/Out … voices from the disability community." The discussion is part of Undesirable Elements, an ongoing series of community-specific oral history theater works that examine the lives of people born in one culture, but currently living in another, either by choice or by circumstance. Ping Chong is the theater director.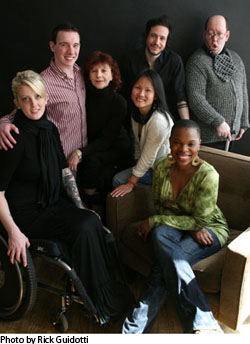 Present for the panel will be co-writers and directors Chong, Sara Zatz and cast members Matthew S. Joffe and Blair Wing. The event will take place in the Joyce Hergenhan Auditorium in Newhouse 3 on Tuesday, March 27, at 7 p.m. The program is free and open to the public. For more information about the program, contact Leah Stacey at lrstacy@syr.edu.
"Inside/Out … voices from the disability community" is a theatrical production commissioned by VSA, the international organization on arts and disability. The oral history production explores the first-hand experiences of the disability community through personal narratives. The Washington Post describes the production as "consistently powerful and eye-opening" and "riveting."
Ping Chong & Company, originally the Fiji Theatre Company, was founded in 1975 to explore the meaning of contemporary theater and art on a national and international level. The company's mission is to explore the intersections of race, culture, history, art, media and technology in the modern world. Today, the company creates unfailingly innovative works of theater and art for modern, multi-cultural audiences in New York and throughout the world. Ping Chong & Company is a modestly sized, not-for-profit experimental arts organization. The company is artist-run and maintains a small full-time staff, offices and storage facilities in New York City. In addition, the company provides an artistic home and professional base for a multi-racial core group of performers, designers and theater artists who collaborate with Chong on a project basis.
ArtsEngage is Syracuse University's Office of the Arts Presenter. The Office engages and inspires SU and the surrounding Syracuse community through diverse performance art. The 2011-2012 season includes David Sedaris, Buglisi Dance Theatre, Harlem stride pianist Stephanie Trick, Kronos Quartet, eighth blackbird, Diavolo and much more. Arts Engage is also proud to collaborate with Syracuse Stage and Ping Chong & Company in the ongoing creation of "Cry for Peace: Voices from the Congo," a documentary theater production based on the stories of CNY Congolese refugees.