Philanthropy Week takes place April 9-13
The second annual Philanthropy Week at Syracuse University takes place April 9-13. Events during Philanthropy Week raise awareness about the importance of giving back to the University and recognize those who support SU through generous donations of time and money.
"Philanthropy Week is a celebration of the thousands of alumni, parents, employees and friends who voluntarily support SU," says David Murray, executive director of special campaigns and initiatives in the Office of Development. "We hope current students will be inspired by their generosity and will consider their own lifelong commitments to SU." 
Philanthropic gifts take over in April, approximately 85 percent of the way through the school year, when tuition money runs out.  Philanthropy and other income typically pay operating costs for the rest of the year. "Philanthropy Week is a chance for each of us to reflect on the importance of donors' gifts," says Murray, "as well as reflect on our own ability to help keep SU great."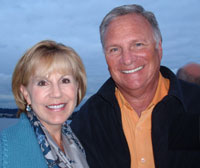 Support from Howie Phanstiel '70, G'71, and his wife, Louise, played a large role in the creation of Philanthropy Week. In 2010, the couple created the Phanstiel Scholars program, which not only provides financial resources for middle-class students to attend SU, but also creates a spirit of philanthropy among Phanstiel Scholarship recipients. Phanstiel Scholars are expected to pay forward their time, money and talent to make the world a better place.
"We believe that education is the key to unlocking the hopes and dreams that lie inside each of us to the betterment of our country and society," says Louise. "It's our sincere desire that the Phanstiel Scholars will realize their full potential and be productive and active citizens."
Howie Phanstiel, a graduate of The College of Arts and Sciences and the Maxwell School of Citizenship and Public Affairs, and Louise Phanstiel gave $20 million to create the Phanstiel Scholars program. In addition, they have given $5 million to the Maxwell School for the creation of the Phanstiel Chair in Strategic Management and Leadership, which serves their vision for promoting outstanding leadership in the public sector. Additionally the Phanstiels made a gift of $1.2 million to help finance the building of the Carmelo K. Anthony Basketball Center. 
The Phanstiel Scholars program also includes the Phanstiel Lecture. The inaugural lecture features John Wood, a former Microsoft executive, who founded Room to Read, an organization dedicated to transforming the lives of millions of children in developing countries by focusing on literacy and gender equality in education.
The Student Philanthropy Council, created in 2010, will serve as hosts for the week. The student ambassadors come from various academic majors and class years, but share a common commitment to giving back and supporting SU, helping to build a culture of philanthropy on campus among their fellow students.
Philanthropy Week Campus Schedule
Orange Circle Awards
Tuesday, April 10, noon
The Orange Circle Awards will recognize altruistic members of the SU community who have done extraordinary things in the service of others. This year's recipients are:
All Star C.A.S.T., a program for drama students and people from the community who have special needs, all of whom share a love of acting and the desire to create theater.
Eric Mower '66, G'68 and Judith Mower '66, G'73, '80, '84, alumni whose belief in philanthropy extends not only to their businesses, their community and their alma mater, but to the next generation.
Angela Robinson '78, a veteran broadcast journalist who volunteers her time to SU, both on campus and in her hometown of Atlanta, and has established a scholarship for minority students.
Scholarship Donor Appreciation Reception
Tuesday, April 10, 2 p.m.
This event honors SU alumni, faculty, staff, parents and friends who have established scholarships at SU, and enables the scholarship recipients to meet and thank their benefactors in person.
Inaugural Phanstiel Lecture
Tuesday, April 10, 4 p.m.
Hendricks Chapel
The first Phanstiel Lecture is free and open to the public. More information about Wood is available at John Wood's bio.
Thank-a-Donor Day
Thursday, April 12, all day
What would you do if your semester ended 29 days early? April 12 is the day tuition "runs out" and donors' gifts take over. Thank donors for their generosity by sending a few words to thankyou@syr.edu.
Class of 2012 Donor Appreciation Event
Thursday, April 12, 5–7 p.m.
Club 4.4, Carrier Dome
An event for seniors who have made a gift to the 2012 Senior Class Giving campaign. It takes place at Club 4.4, the Carrier Dome's exclusive VIP lounge, and includes behind-the-scenes Dome tours.
Philanthropy Week is sponsored by Division of Advancement and External Affairs. For more information about Philanthropy Week, or how you can donate, contact Development Associate Helene Kahn at 443-1120 or hmkahn@syr.edu.