PearlTrees chief evangelist, social activist Oliver Starr will visit Newhouse March 21
Oliver Starr, chief evangelist with PearlTrees, will visit Syracuse University's S.I. Newhouse School of Public Communications on Wednesday, March 21, as a guest of the Newhouse Global Leaders in Digital and Social Media Speaker Series. He will speak on "The Power of Content & Curation: How Digital and Social Engagement Helped Save the Wolves" at 6 p.m. in the Joyce Hergenhan Auditorium in Newhouse 3. Follow the talk on Twitter at #NewhouseGLDSM.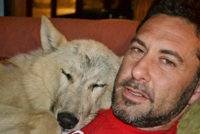 Starr, who has been the successful founder of several startups (both acquired), will discuss how to harness content creation and curation for digital storytelling and social engagement that makes a difference.
He has been an entrepreneur and executive with significant success in business development, community building and social media, blogging, mobile technology and mobile applications, marketing copy writing, business strategy (particularly for early-stage ventures) and sourcing of capital from private and institutional investors.
Previously, he was general partner at Blue Marble Ventures; founder and CTO of Quantum Mechanic's Group Inc.; a mobile search strategy consultant for Microsoft Corp.; executive editor of GTDtimes.com at The David Allen Co.; senior vice president of business development, chief mobility officer and blogger for Foldera Corp.; professional blogger for TechCrunch; chief technology officer at Hello Inc.; executive in residence at Angel Strategies and The Venture Alliance; founder, president and chief science officer for Avastar Inc.; founder of Supplement Facts Inc.; and founder and CEO of Olerix Inc.
His talk is free and open to the public. Parking is available in SU pay lots. For more information, contact Betsy Feeley at 315-443-7401 or eafeeley@syr.edu.