Newhouse to host advance screening of new HBO comedy 'Veep'
Alumni involved with the show will attend, answer questions 
Robert Thompson, director of the Bleier Center for Television and Popular Culture in Syracuse University's S.I. Newhouse School of Public Communications, will host an advance screening of the new HBO comedy "Veep" on Thursday, April 5, at 7 p.m. in Watson Theatre.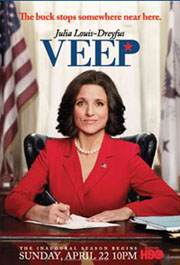 "Veep" follows Vice President Selina Meyer (Julia Louis-Dreyfus) and her staff as they attempt to make their mark and leave a lasting legacy, without getting tripped up in the day-to-day political games that define Washington. 
The screening will be followed by a Q-and-A with executive producer Chris Godsick '87, actor Reid Scott '00 and director of photography Jay Feather '94. 
The event is free and open to the public. Parking is available in SU pay lots. More information is available on Facebook or by contacting Mylinda Smith at (315) 443-9252 or msmith@syr.edu.