SU celebrates 142nd birthday on March 24, National Orange Day
Syracuse University and SU alumni clubs around the nation will be celebrating on Saturday, March 24—National Orange Day. This year is the 142nd anniversary of SU's founding on March 24, 1870.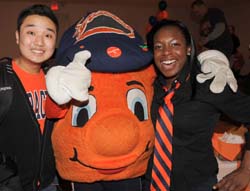 "National Orange Day is a wonderful tradition that brings the SU community and alumni clubs across the nation together to celebrate the history of SU, and to engage in projects that support our respective local communities," says Cristina Swift, assistant director of alumni relations. "There is no better way to celebrate SU's founding than to display our Orange spirit and pride through celebration and community outreach."
On Thursday, March 22, the Traditions Commission will hand out celebratory cupcakes and cookies in the Hildegarde and J. Myer Schine Student Center Atrium from noon-2 p.m. Members of the SU community can also support the campuswide sponsorship of the Vera House White Ribbon Campaign. Wrist bands and ribbons will be sold in the Schine Atrium on Thursday.
The Carrier Dome and the National Grid building in downtown Syracuse will be lit in orange on Saturday night.
The SU Bookstore will offer special discounts on Thursday, March 22, to coincide with the event in the Schine Atrium and the men's basketball Sweet 16 game that evening. Tennity Ice Skating Pavilion on South Campus will offer free skate rentals to anyone wearing orange on Saturday.
The Central New York Alumni Club will partner with the Downtown Committee and SU students, faculty and staff to help clean up downtown Syracuse and the University Hill on Saturday, March 24, from 8:30-11 a.m. They will then meet at Varsity Pizza at 12:30 p.m. for lunch. To sign up, e-mail events@downtownsyracuse.com with the subject line "National Orange Day 3/24 volunteer" by March 21. In the e-mail, indicate the number in your party and if you plan to enjoy lunch at Varsity Pizza. For more information, contact Kim Brown at kbrow04@syr.edu.
More information on National Orange Day can be found at http://syr.edu/alumni/events/National-Orange-Day.html.
Among the service projects taking place around the country, sponsored by local SU Alumni Clubs:
The Arizona club will participate in a graffiti clean-up in Phoenix.
Atlanta alumni will volunteer with Hands on Atlanta as they tutor and lead activities with students at the Parkside Elementary School.
Baltimore alumni will paint rooms at the Carmelo Anthony Youth Development Center.
The Big Apple Orange (New York City) club began hosting "24 Days of Orange," a community service competition in honor of National Orange Day, on March 1. The club is encouraging local alumni to earn points by making donations to the Food Bank of New York City or Tweet or post on Facebook their own personal good deeds to the Big Apple Orange.
Members of the Boston club will volunteer at the Greater Boston Food Bank on April 7 inspecting, sorting and repacking donated grocery products that will be distributed to more than 550 hunger relief agencies throughout eastern Massachusetts.
Central New Jersey alumni will be collecting items to donate to the Trenton Area Soup Kitchen.
Club members in Connecticut will be collecting food for the Connecticut Food Bank.
Northeast Ohio alumni will be volunteering at the Boys and Girls Club on Broadway Avenue in Cleveland on March 30.
Members of the Northern New Jersey club will volunteer at Deidre's House, a child advocacy center in Morristown by providing a spring clean-up, as well as restocking the kitchen with healthy snacks and drinks.
Club members in northwest Pennsylvania made Valentine Cards for the residents of Edinboro Manor.
The Philadelphia club will support two volunteering opportunities: one with Ronald McDonald House and one performing neighborhood clean-up in North Philadelphia.
Puerto Rico alumni will be collecting cleaning supplies, new board games and toys to donate to their local Ronald McDonald House.
The Stumptown Orange Club (Portland) will be volunteering at the Oregon Food Bank on April 21.
The Suncoast Club (Florida) will volunteer at the Give Hunger the Blues Event in support of the All Faiths Food Bank on March 25.
Washington, D.C., alumni are collecting teddy bears to give to the National Children's Hospital.