Free speech pioneer Mary Beth Tinker to visit Newhouse School March 19
Mary Beth Tinker, whose decision to wear an armband to junior high school in 1965 led to a landmark Supreme Court ruling upholding students' free speech rights, will visit the S.I. Newhouse School of Public Communications on Monday, March 19 as a guest of the Tully Center for Free Speech. "At the Schoolhouse Gate: Freedom of Speech in Schools—A Conversation with Mary Beth Tinker" will be held at 7:30 p.m. in the Joyce Hergenhan Auditorium in Newhouse 3. Follow on Twitter at #TullyCenter.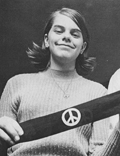 "Mary Beth Tinker is a pioneer in student free speech circles," says associate professor and Tully Center director Roy Gutterman. "I am so excited about bringing her to campus. Her Supreme Court case has influenced more than 40 years of student and school speech cases."
Tinker was a 13-year-old junior high school student when she and other students wore black armbands to school in protest of the Vietnam War. After being suspended, they sued the school district on First Amendment grounds. Their case eventually went to the U.S. Supreme Court, which issued a landmark opinion in Tinker v. Des Moines Independent Community School District (1969), ruling that students do not "shed their constitutional rights to freedom of speech or expression at the schoolhouse gate."
Tinker's visit is part of the Tully Center's Distinguished Speaker Series. The event is free and open to the public. Parking is available in SU pay lots. For more information, contact Gutterman at 315-443-3523 or rsgutter@syr.edu.