'Life Gets Better Together' conference takes stand against LGBTQ-based bullying
The 'Life Gets Better Together' conference for lesbian, gay, bisexual, transgender and queer (LGBTQ) youth advocacy will take place on Saturday, March 24, on the Syracuse University campus in the S.I. Newhouse School of Public Communications. Designed to empower participants in the fight against LGBTQ-based bullying, the conference will include a series of workshops and a keynote panel. It will conclude on Saturday evening with an a cappella concert in Hendricks Chapel to benefit The Trevor Project, with SU a cappella groups coming together for a musical celebration of all identities.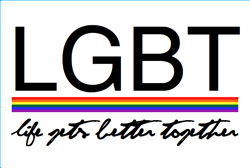 The workshops will be facilitated by University faculty, graduate and doctoral students, along with panelist members State Assemblyman Daniel O'Donnell, and communications expert and media activist Cathy Renna. Topics include the impact of digital technologies in LGBTQ activism, the unique social and political issues faced by trans people, reduction of stigma in schools, advocacy and therapy for LGBTQ youth, media advocacy and more. The afternoon panel will focus on representations of LGBTQ youth in politics and the media. Renna and O'Donnell will join associate professor and chair of the Newhouse School's Department of Public Relations Brenda Wrigley in this discussion.
"At a time when public figures still find it appropriate to marginalize and vilify LGBTQ persons, we need to bring more awareness to the issues affecting all Americans in the conversation about acceptance, celebration and support. This conference is a perfect opportunity to do so," says Wrigley.
The evening a cappella concert will include performances by SU groups The Mandarins, Orange Appeal, Main Squeeze, Otto Tunes and Oy Cappella.
The conference is free and open to the public. Registration is available online. The conference begins at 10 a.m. with complimentary breakfast and a networking session in the Newhouse 3 lobby. The first session of workshops kicks off at 11 a.m., with the conference schedule concluding at 5:50 p.m. Tickets are required for the 8 p.m. a cappella concert and can be purchased for $5 at the Schine Box Office in the Hildegarde and J. Myer Schine Student Center.
For more information, contact Deanna Payson at dmpayson@syr.edu or 508-244-7579, or visit www.lifegetsbettertogether.com. Participants can join the conversation on Facebook and Twitter.
The 'Life Gets Better Together' conference, as it is known today, was created and co-chaired by SU students Liam Fitzpatrick and Deanna Payson. Their supportive and highly motivated team is made up of students, faculty and local supporters of the LGBT youth advocacy cause. Its mission is to facilitate the creation of a more accepting world for LGBTQQIAA youth through conversation, education and celebration. The 'Life Gets Better Together' conference is supported by the Syracuse University Co-Curricular fund, the LGBT Resource Center, LGBT studies program and the political science department.
The Trevor Project is the leading national organization providing crisis intervention and suicide prevention services to LGBTQ youth. The Trevor Project is determined to end suicide among LGBTQ youth by providing life-saving and life-affirming resources, including a nationwide, 24/7 crisis intervention lifeline, digital community and advocacy/educational programs that create a safe, supportive and positive environment for everyone.