PepsiCo CFO Hugh Johnston '83 to speak at ninth annual Whitman Day April 4
In honor of the school's namesake Martin J. Whitman '49, the Whitman School of Management at Syracuse University will host its ninth annual Whitman Day on Wednesday, April 4. Hugh F. Johnston '83, chief financial officer of PepsiCo, will deliver the keynote address at 10:30 a.m. in Lender Auditorium.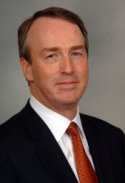 Johnston assumed the CFO role at PepsiCo in March 2010 and is responsible for providing strategic financial leadership for the corporation, which owns the world's largest portfolio of billion-dollar food and beverage brands, including 19 different product lines, each of which generates more than $1 billion in annual retail sales. He ensures that PepsiCo's strategic and operating plans, capital allocation, performance management processes, financial systems and controls, and capital structure all position the company to preserve and increase shareholder value. Johnston is also responsible for leading and developing PepsiCo's pipeline of outstanding finance talent. He was recently named one of the Top 100 influential people in finance.
Johnston joined PepsiCo in 1987 and has served in a variety of positions, including CFO, PepsiCo Beverages and Foods; senior vice president, Mergers and Acquisitions, PepsiCo; president, Pepsi-Cola North America Beverages; and most recently executive vice president, Global Operations, PepsiCo. In this role, Johnston ran the post-merger integration efforts for PepsiCo's bottler transactions with Pepsi Bottling Group and PepsiAmericas, and was responsible for overseeing PepsiCo's Global Procurement and Business Information Systems functions, as well as the company's Worldwide Concentrate Operations.
Whitman Day kicks off at 8:30 a.m. in the Milton Room in the Whitman School building with a panel discussion, "A Conversation About Value Investing," moderated by J. Daniel Pluff of Morgan Stanley, and featuring panelists Martin Whitman, founder and co-chief investment officer of Third Avenue Funds; Fernando Diz, Martin J. Whitman Professor of Finance; and Timothy A. Fortner of Wells Fargo Advisors.
For more information, visit Whitman Day.