Football alum Brian Tarrant '96 to speak at SU about finding success off the field
Career Services, within the Division of Student Affairs, and the Office of Alumni Relations are bringing Brian Tarrant '96, division vice president at MC2, a leading event and exhibit marketing company, to campus on Wednesday, April 4 as part of the Alumni Speaker Series. Tarrant's company designed the Carmelo K. Anthony Basketball Center's Orange Basketball Hall of Fame, and Tarrant will speak inside the center. He will give a presentation about his career at 5:30 p.m. in the Tobin Lab, followed by a reception in the Hall of Fame.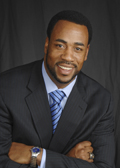 Space for the event is limited, and interested attendees must register in OrangeLink. If you do not have OrangeLink access, e-mail Kim Brown (kmbrow04@syr.edu) in the Career Services office to secure a spot.
Tarrant was recruited to Syracuse University to play football and studied sociology in The College of Arts and Sciences. A fellow SU alumnus helped him to land his first job after college working in sales. Tarrant joined MC2 shortly after, working his way up to become the head of the company's collegiate services division. Tarrant will share his career path with students and offer words of inspiration, especially for those students who might feel lost or struggling in their college experience.
The Alumni Speaker Series is a collaborative effort of Career Services and the Office of Alumni Relations that brings SU alumni back to campus each semester to share their career stories. The series will continue in partnership with Asian Pacific American Heritage Month, welcoming ESPN's Anish Shroff on April 20 and Raytheon's Jennifer Zhao on April 23.
For more information about the Alumni Speaker Series, contact Brown.