Exhibition design by museum studies graduate students to be displayed at Design Gallery
First-year museum studies graduate students in Syracuse University's College of Visual and Performing Arts will present "Creativity through Exhibition Design II"—a show of work from their "Practicum" course—at the Design Gallery at The Warehouse March 9-30. The exhibition is free and open to the public. The Design Gallery is located on the first floor of The Warehouse, 350 W. Fayette St., Syracuse. Patrons should enter The Warehouse via the ground-floor door adjacent to the café on West Fayette Street or the first-floor door on West Washington Street.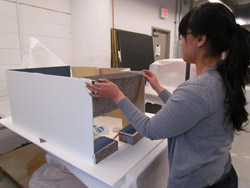 "Creativity through Exhibition Design II" features computer-aided drawings and three-dimensional models of the gallery space in the New York State Tower Building adjacent to Hanover Square. Students gained experience in such areas as color selection, spatial arrangement, lighting techniques, typography and universal design principles to put their individual creativity into an upcoming exhibition they are working on titled "Hidden in Plain Site: Sculpture in Syracuse and the Work of the Public Artist in Residence."
The gallery is open daily, 10 a.m.-5 p.m. For more information, contact Bradley Hudson at bjhudson@syr.edu.