Exhibition showcases award-winning work of designer Roy Wilson '70
Designer Roy Wilson, a 1970 alumnus of Syracuse University's College of Visual and Performing Arts, will exhibit his award-winning educational toy designs March 23-April 17 at the Design Gallery at The Warehouse, 350 W. Fayette St., Syracuse. A reception will be held Thursday, April 12, from 12:30-1:30 p.m.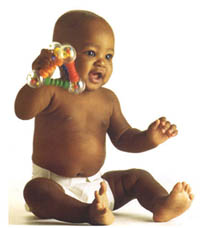 The gallery is open daily, 10 a.m.-5 p.m. Patrons should enter The Warehouse via the ground-floor door adjacent to the café on West Fayette Street or the first-floor door on West Washington Street.
"Educational Toys by Roy Wilson" features Wilson's work from the Learning Curve Toy Co., including the 1992 Thomas Wooden Railway project and the 1994 Lamaze Infant Development System, which he researched, designed, engineered and manufactured. The exhibition will also include his most recent invention in toys, TRAK2BRIK Adapters. Introduced in February at the American International Toy Fair, TRAK2BRIK is a system of adapters that links wooden railway track to pegged construction bricks and has dozens of slide-on toy accessories.
Wilson's career evolved from an early fascination with mechanical, scientific and electrical products. While at SU studying industrial design, he wrote his graduating thesis on preschool educational developmental toys. He started his own design business, Creative International, in 1967 and decided to remain independent and/or work on long-term contracts. To date, he has won 47 national and international awards for design excellence.
For more information, contact Bradley Hudson at bjhudson@syr.edu.