Weeklong Diavolo Dance Theater residency includes opportunities for students, public performance
ArtsEngage, Syracuse University's Office of the Arts Presenter, will sponsor a week-long residency with the Diavolo Dance Theater, an internationally renowned modern acrobatic dance company, April 9-13 at the newly renovated Landmark Theatre in downtown Syracuse.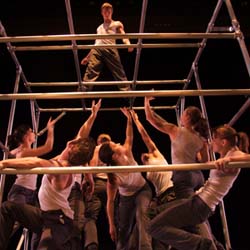 Diavolo company members are dancers, gymnasts, actors, athletes and, above all, teammates. Under the guidance of Artistic Director Jacques Heim, the company has developed a reputation for stunning, innovative movement on oversized surrealistic sets and everyday structures. Through working together, Diavolo dancers explore the challenges of relationships, the absurdities of life and the struggles to maintain one's humanity.
Diavolo is currently completing work on "Transit Space," a new piece inspired by the movement of skateboarding. The world premiere of Transit Space will take place in late April at the Center for the Performing Arts at Pennsylvania State University, as the culminating event of Diavolo's participation in the Creative Campus Project. The Creative Campus Project is an initiative to foster connections between performing arts companies and universities, funded by the Doris Duke Charitable Foundation and administered by the Association of Performing Arts Presenters (APAP).
The residency will culminate with a public performance on Friday, April 13, at 7 p.m. at the Landmark Theatre. The performance will include a world preview of Transit Space and other works in Diavolo's current repertoire.
Tickets for SU students, faculty and staff are free and are now available from the Schine Box Office (limit four tickets per person). Requests for large numbers of tickets (as for a class), should be made to Esther Gray at 443-2941 or eegray@syr.edu.
Tickets for members of the Syracuse community are on sale at the Landmark Box Office. The price is $15 for adults, $10 for seniors (62 and over) and $5 for students (of any age), with a cap of $35 per family.
During the residency at SU, students and faculty members from a range of disciplines will have the opportunity to contribute to and/or learn from the "Transit Space" piece. Students will be able to participate in the residency Monday-Friday in a variety of ways.
In what was originally conceived as a lighting design residency, opportunities exist for theater design and other design majors to work intensively with Diavolo's lighting designer and creative director on the piece. Alex Koziara, associate professor in the Department of Drama in the College of Visual and Performing Arts and production coordinator for the Diavolo residency, says this is a great opportunity for anyone interested in entertainment design—from lighting to interior to commercial to industrial—to reinforce foundational skills and gain unique experience. Students interested in this opportunity must commit time to be engaged in the process.
Another opportunity for students and faculty is through class experiences. Classes scheduled during the week are welcome to meet at the Landmark and use aspects of the residency as a foundation for discussion.
Individuals are also welcome to observe the process, either what is taking place on the stage or through studying the newly renovated Landmark Theatre.
For more information on how faculty members and students can participate in the Diavolo residency, e-mail Danielle Hodgins at dahodgin@syr.edu.
Jacques Heim founded Diavolo Dance Theater in 1992. Based in Los Angeles ever since, Diavolo was officially recognized as a cultural treasure by the City of Los Angeles in 2007. The 2011-12 season marks Diavolo's 13th U.S. tour, with over 14 weeks on the road in 20 cities. In addition, Diavolo has toured extensively throughout Europe, Asia, and Latin America.