Arts & Culture
Department of Drama Presents 'Quilters' a joyous, moving, musical celebration from the American Frontier
The memories, hopes, dreams and prayers of the indomitable women of the American frontier enliven this hauntingly beautiful musical. Based on oral histories from the pioneers of the prairie states, "Quilters" celebrates with unassuming honesty and simplicity the fears, joys, loves and tribulations of these remarkable women as they move from girlhood through family life and confront hardships as settlers in a sometimes harsh land. With a folk-inspired score and a hearty dose of humor, "Quilters" offers a tender and moving theatrical experience.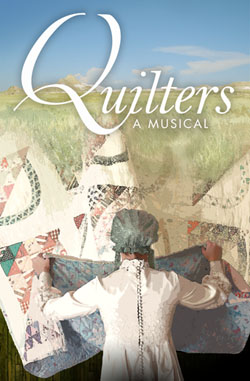 Presented by the Department of Drama in Syracuse University's College of Visual and Performing Arts, and directed and choreographed by Patdro Harris, "Quilters" runs March 30-April 7 in the Storch Theatre at 820 E. Genesee St. Tickets are $16-$18, available at 443-3275 or by visiting http://vpa.syr.edu/drama. SU Drama's season sponsor is WAER 88.3.
After directing and choreographing Syracuse Stage's 2009 production of "Crowns," Patdro Harris returns to Syracuse to direct and choreograph "Quilters" for SU's Department of Drama. Harris' work as a director, choreographer and writer spans the globe, including prestigious theatres such as the Kennedy Center, Guthrie Theatre, Portland Center Stage and Broadway's Royal Theatre.
Harris describes "Quilters" as "a folklore of American history in play form." Using the progression of history to weave together the lives of seven women, the play is a tribute to the courage and spirit of the nation's pioneer women.
"I think the different stories will appeal to different people because the play touches on so many aspects of life—childbirth, death, marriage, childhood," says Harris. "There are a variety of different elements in the play and hopefully something will inspire people to just be encouraged about life. I really hope that the audience will see that, even while the women had a rough time—they made it, they persevered and loved each other."
Musical direction and additional orchestrations for the SU Drama production has been provided by Brian Cimmet, who previously served as musical director for SU Drama's "Cabaret," "A New Brain" and "Cradle Will Rock," and Associate Music Director for Syracuse Stage's "Rent" and "The Lion, The Witch, and the Wardrobe." His credits also include the Broadway companies of "The Drowsy Chaperone," "Mary Poppins" and "Grease," and the original Off-Broadway production of "I Love You Because" (including the cast album).
Throughout the run of "Quilters," a quilt exhibit will hang in the lobby of the Storch Theatre; special thanks to Hendricks Chapel Quilters including George Athanas, Hanita Blair, Sara Button, Roxanna Carpenter, Sher Corcoran, Donna Fecteau, Beulah Jackson, Ruth Kurlandsky, Rachel Mandel, Sundus Mian, Leena Mian, Mary O'Brien, Peggy O'Brien, Judy O'Rourke, Andrea Pollock, Dara Salley, and Susan Wadley; Teddy Aiken, Maria Morales, Bradley Hudson and Brian Crotty for the Lobby Display; at Le Moyne College, Roberta Nealy, Bernice Harris, Calico Gals and Dorcas MacDonald.