VPA's Kendall Phillips publishes book on horror films of Romero, Craven, Carpenter
Kendall Phillips, associate dean of research and graduate studies in the College of Visual and Performing Arts (VPA) and a professor of communication and rhetorical studies in VPA's Department of Communication and Rhetorical Studies, has published the new book "Dark Directions: Romero, Craven, Carpenter and the Modern Horror Film" (Southern Illinois University Press), an examination of the macabre visions of the three renowned filmmakers.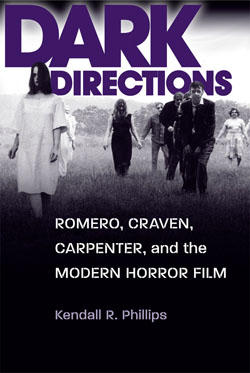 In the book, Phillips begins by analyzing the works of George Romero, focusing on how the body is used cinematically to reflect the duality between society and chaos, concluding that the unconstrained bodies of the "Living Dead" films act as a critical intervention into social norms. Phillips then explores the shadowy worlds of director Wes Craven. In his study of the films "The Serpent and the Rainbow," "Deadly Friend," "Swamp Thing," "Red Eye" and "Shocker," he reveals Craven's vision of technology as inherently dangerous in its ability to cross the gossamer thresholds of the gothic. Finally, the volume traverses the desolate frontiers of iconic director John Carpenter. Through an exploration of such works as "Halloween," "The Fog" and "In the Mouth of Madness," Phillips delves into the director's representations of boundaries—and the haunting consequences for those who cross them.
Phillips is also the author of "Controversial Cinema: The Films that Outraged America" (Praeger, 2008) and "Projected Fears: Horror Films and American Culture" (Praeger, 2005), among other titles. His research and teaching interests are in contemporary rhetorical theory and criticism. His work engages broad theoretical questions of advocacy, controversy, dissent and public memory. He explores these concepts through a variety of rhetorical artifacts, including comic books, film, political speeches and scientific controversies.