Curator Sumi Hayashi to lecture on Mark Rothko March 20
Sumi Hayashi, curator of the Kawamura Memorial DIC Museum of Art in Chiba, Japan, and an expert on famed Abstract Expressionist painter Mark Rothko (1903-1970), will present a lecture on Rothko on Tuesday, March 20, at 6:30 p.m. in Shemin Auditorium in the Dorothea Ilgen Shaffer Art Building. The free, public lecture is sponsored by the Department of Art's Visiting Artist Lecture Series in Syracuse University's College of Visual and Performing Arts (VPA). Parking is available in SU pay lots.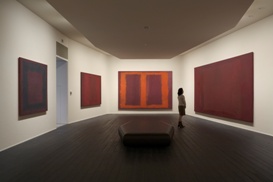 The Kawamura Memorial DIC Museum of Art holds seven paintings from Rothko's "Seagram Murals" series, which was commissioned in the 1950s by New York's Four Seasons restaurant in the Seagram Building. Hayashi's lecture is held in conjunction with Syracuse Stage's current production of "Red," the 2010 Tony Award-winning bio-drama of Rothko at the time he was working on the murals. 
Hayashi co-organized the 2009 "Rothko" exhibition at the Tate Modern in London and is currently translating James Breslin's "Mark Rothko: A Biography" (University of Chicago Press, 1998). In addition, she has organized such exhibitions as "Joseph Cornell X Mutuo Takahashi: Intimate Worlds Enclosed" and "Moholy-Nagy in Motion." 
For more information about the lecture, contact Stephen Zaima at szaima@syr.edu. For more information about "Red" at Syracuse Stage, which runs through March 25, visit http://www.SyracuseStage.org.