WAER to host Catherine Russell in concert April 28
In honor of Jazz Appreciation Month and in celebration of 65 years of broadcast service to the Central New York community, WAER 88.3FM, Syracuse University's jazz station and NPR affiliate, will be hosting Catherine Russell in concert on April 28, at 7 p.m. at the Palace Theatre.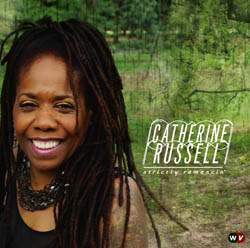 "This April marks WAER's 65th anniversary," says WAER's station manager, Joe Lee. "We thought it fitting to celebrate it and Jazz Appreciation Month by bringing back a Syracuse favorite, Catherine Russell."
WAER has committed to keeping the concert accessible to all audiences. Through generous support from sponsors such as Seneca Federal Savings and Loan, National Grid, University College of Syracuse University and the Central New York Community Foundation, ticket prices are a low $20 each. WAER's presenting partner is Syracuse Jazz Fest Productions and the media sponsor is the Syracuse New Times.
Russell will be performing music off her most recent album. "Strictly Romancin'," her fourth for World Village/Harmonia Mundi records.
"Strictly Romancin'" explores love's foibles, failures and bliss, from amorous to humorous. On this 14-song collection, this ever-soulful jazz-blues vocalist takes us on a journey: from Harlem dance hall, to Parisian café, to store front church, to New Orleans gin joint, to uptown cabaret, blurring distinctions between the carnal and the eternal, in a musical tour de force. The album comprises many covers of Russell's greatest influences and mentors, including her father, Luis Russell, family friend Louis Armstrong, and Duke Ellington among others.
Russell is a native New Yorker born to musical royalty. Her father was a pioneering pianist, composer and bandleader, and Louis Armstrong's long-time sidekick. Her mother, Carline Ray, is a bassist, guitarist and vocalist, who has performed with Mary Lou Williams and International Sweethearts of Rhythm. Russell's professional life began early. After graduating with honors from the American Academy of Dramatic Arts, she embarked upon a rich journey backing artists like Carrie Smith, Steely Dan, David Bowie, Cyndi Lauper, Paul Simon, Jackson Browne, Michael Feinstein and Rosanne Cash.
Her 2006 debut album, "Cat," garnered rave reviews, paving the way for her 2008 sophomore release, "Sentimental Streak." Russell was a guest on "Late Night with Conan O'Brien," PBS's "Tavis Smiley Show," and a half dozen shows for NPR. She has won a prestigious German Record Critics' Award and a Hot Club of France Discovery Award. Russell's third album, "Inside This Heart of Mine," reached No. 1 on JazzWeek, Roots Music Report and iTunes Jazz Charts.