Community engagement to be honored at annual CAPES Award ceremony March 26
Syracuse University will honor students, faculty, staff and community partners who exemplify SU's commitment to engagement with the community and Scholarship in Action with the 2012 Chancellor's Award for Public Engagement and Scholarship (CAPES). The awards will be given at a celebration dinner on Monday, March 26, at 5:30 p.m. in the Hildegarde and J. Myer Schine Student Center's Goldstein Auditorium.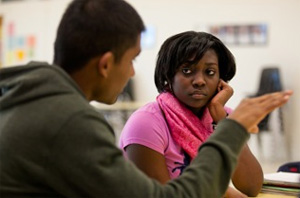 SU students, faculty and staff engage in tens of thousands of hours of community-based work that benefits the Syracuse community, the Central New York region and the world. Public scholarship is done through the Mary Ann Shaw Center for Public and Community Service (Shaw Center), as well as many other SU/community partnerships and programs. The Chancellor's Award for Public Engagement and Scholarship (CAPES) recognizes commitment to Scholarship in Action and investment in the public good.
The Shaw Center has named Catholic Charities of Onondaga County as its 2012 Community Partner.
"The CAPES nominations provide a 'look inside' the robust engagement work SU students, faculty and staff are involved with locally, regionally and globally," says Pamela Kirwin Heintz, associate vice president and director of the Shaw Center. "Our community partners' time and energy, here and around the globe, helps us all learn about and better understand the complexities in our world. And, more importantly, they teach us how to partner and engage with community to build capacity and explore solutions. We greatly appreciate their commitment, which helps us all construct experiences and learning that would not be possible alone."
This year's CAPES honorees are:
Residence Hall
The RA staff at Day Hall: Resident advisors engaged in a pen-pal project with second-grade students at Delaware Academy in Syracuse. The project establishes a unique connection with the community, helps the students learn to write letters and helps them become familiar with college as an attainable goal.
Tower Power Executive Board (Lawrinson Community Council): Tower Power created, planned and implemented a series of programs to give back to the community on several different levels (residence hall, city, national and global). Their projects included a Halloween Bash to benefit UNICEF, creating Thanksgiving cards for veterans, collecting jeans for youth and a "Make Their Day" project to promote kindness and positive thinking.
Student Organization
Student Veterans Club provides a library of resources and network of support to student veterans. The club participated in both building and fundraising efforts for a Habitat for Humanity Veterans' Build; planned, promoted and produced the Veterans Day Recognition Ceremony on campus and assists student veterans with internship and job placement.
Student Group
Disability Law Society partners with the Office of Student Life in the College of Law and other organizations to create and support programming that raises awareness about access to educational opportunities, inclusion and the impact that certain policies, laws and procedures will have on the community.
Academic Service Learning Course/Project/Programs
School of Architecture: Engagement Fellows Stephen Klimek '11 and Nilus Klingel '11 established a student–run engagement project, "Storefront Syracuse," a new space for public scholarship and engagement—such as exhibitions, lectures and social events—at the State Tower Building in downtown Syracuse.
The College of Arts and Sciences: ANT 300/HNR 340: "Migrating Memories, Memories Arts." This is a course in which Honors Program students engage in intercultural learning exchanges that promote the preservation of the traditional arts of refugee communities. Among their work they created informational brochures on South Sudanese and Somali Bantu folk arts and hosted refugee artists at several public events.
The College of Arts and Sciences: SPA 400/600: "Community Outreach—Language in Action." In this course, students participated in a language immersion and service experience in Syracuse's Latino community. Participants served senior and student populations in a variety of ways, including offering workshops, crafting public service announcements and newsletters and assisting with translation.
School of Education: EDU 303: "Teaching and Learning for Inclusive Schooling." Students in the Spring 2011 semester served as tutors, creating an invaluable support system and personalized instruction for 70 students with academic difficulties in high-need Syracuse elementary schools.
David B. Falk College of Sport and Human Dynamics: The Goldberg Couple and Family Center. The center offers no-cost individual, couple and family therapy, and students in the college's Marriage and Family Therapy program provide more than 5,000 visits annually.
School of Information Studies: Little Free Libraries Project. A team formed by doctoral student Jaime Snyder partnered with the School of Information Studies and the College of Visual and Performing Arts to create a series of lending libraries so that books could be freely and publicly accessed throughout the community.
S.I. Newhouse School of Public Communications: Democracy in Action. One hundred and thirty students in the Newhouse School collaborated and partnered with professional journalists to provide political reporting and results on Election Day—Nov. 8, 2011.

S.I. Newhouse School of Public Communications: NEW/BDJ 530: "Political Reporting." Students in this class contribute to Democracywise, an award-winning news website to help more people engage in politics and public affairs.
S.I. Newhouse School of Public Communications: ICC 606: "Applied Research in Content Management." Students worked with HopePrint Inc., a local nonprofit organization that helps refugees assimilate into life in Syracuse. The students analyzed the organization's communications operations and website to optimize effectiveness, raise awareness and improve fundraising.
Community Service Leadership Awards
Group
These organizations and academic projects have demonstrated a sustained commitment to community engagement and scholarship.
Balancing the Books
Beta Psi Club of the National Association of Negro Business and Professional Women's Club
Defense Comptrollership Program Class of 2012
LCS-SRC Engineering Ambassadors Program
The National Association of Black Accountants (N.A.B.A.)
Renée Crown University Honors Program (Nottingham Tutoring, The Hughes Elementary Afterschool Program and Hillside Above and Beyond)
Sport Management Club at Syracuse University
Society for Public Health Education (SOPHE)
Students in Free Enterprise (SIFE)
SU/SUNY-ESF Habitat for Humanity
Academic Service Learning
This award recognizes academic departments, projects and programs that have sustained a long-term commitment to service learning and public scholarship.
David B. Falk College of Sport and Human Dynamics
Child and Family Studies
CFS 433, 493 and 494 internship classes—Ninety CFS majors completed internships totaling 8,080 hours at community organizations including PEACE Inc., MacMahon Ryan Child Advocacy, Vera House, the Syracuse City School District and the Salvation Army.
Public Health, Food Studies and Nutrition
HPM 421: "Ethics and Issues in the Hospitality Field"—Students in the spring and fall 2011 semesters engaged in 25 hours of service learning, exploring the intersection of business and community well-being.
Genesis Health Project Network—The project is a community-designed, faith-based initiative to reduce obesity, prevent and manage diabetes and promote healthy lifestyles among the African American population.
HTW 227: Healthy You—A biyearly news magazine designed to promote health literacy and healthier behaviors among college students, faculty and staff.
HTW 304: "Community Health Education"—Class members partnered with SOPHE to implement Health in the Real World: From Classroom to Community outreach effort for Amaus Health Services at the Cathedral of the Immaculate Conception.
HTW 307: "Culturally Competent Health Care"—This class examines the conceptual frameworks and the theoretical models of culturally competent health care in a multicultural society.
HTW 311: "Health Literacy"—Students in this class explore the links between health literacy, health access, health disparities and health outcomes.
NSD 511: "Nutrition Education"—Students completed thorough needs assessments, developed theory-based nutrition curricula and implemented them at several community sites.
NSD 513: "Nutrition Education Experience"—Orange Wrap—Through the OutReach and Nutrition Group Education by Wellness Responsibility Advocating Peers (Orange Wrap), students worked with various groups with a non-diet, health message to promote a balanced approach to dietary and exercise habits.
NSD 658: "Dietetic Interns and Participatory Program"—Students designed an outcomes management research project by combining the nutrition care process with community based participatory research.
School of Social Work
Senior BSSW and MSW Field Placements—Undergraduate and graduate students in social work contributed 15,400 and 77,500 volunteer hours, respectively, to the local community in the past year.
SWK 301: "Foundations of Social Work Practice"—The 28 students in this class gave 1,680 hours of service to five agencies in the local community in the past year.
Individual Awards
First-Year Leadership
Ronald James-Terry Taylor '15, is a freshman policy studies, chemistry and political science major in The College of Arts and Sciences and a Coronat Scholar. He is active with the Cold Case Justice Initiative (CCJI) in the College of Law, the Nottingham ESL Tutoring Program and started the Cultural Project Rejuvenation (CPR) Mentorship Program at Wilson Park.
Resident Advisor
Jennings Crupi '13, a television-radio-film major in the S.I. Newhouse School of Public Communications, is recognized among campus resident advisors for her creative programming and consistent approach to engaging residents of her floor in Haven Hall to participate in community service opportunities. An honorable mention goes to Victoria Seager '14, a policy studies major in The College of Arts and Sciences. Seager, a volunteer with SU Literacy Corps, consistently looks for ways to connect her experience as an RA at Sadler Hall with her Literacy Corps experience.
2012 Inspiration Award
Again this year, students receiving individual Chancellor's Citations selected individuals who have had a particularly significant impact on their lives and the lives of other students. This year's recipients are John Burdick, professor of anthropology in the Maxwell School of Citizenship and Public Affairs and The College of Arts and Sciences; Marian Cappelletti, academic counselor in the Office of Supportive Services; Stephanie Costner, project manager, Collegiate Preparatory Academy, Say Yes to Education; Katelyn Cowen, health and wellness promotions specialist with Health Services; John Giammatteo '11, The College of Arts and Sciences/S.I. Newhouse School of Public Communications; Marion Wilson, associate professor, School of Education and the School of Art and Design in the College of Visual and Performing Arts.
Chancellor's Citations
The young men and women receiving individual Chancellor's Citations represent the highest ideals of the Chancellor's Award for Public Engagement and Scholarship—significant, long-term participation in active learning and citizenship through public and community service, in addition to providing leadership and a strong personal commitment to regenerating and sustaining community.
Brittany Braithwaite '12, a women's and gender studies and pre-med major in The College of Arts and Sciences and a student in the Honors Program, is deeply engaged in a variety of health organizations that provide education on teen pregnancy prevention. She serves as a health advocate for Planned Parenthood, on the SU Student Health Advisory Council and on the Onondaga County Comprehensive Adolescent Pregnancy Prevention Advisory Board. Braithwaite developed SPEAK—Speak Positively by Educating Adolescents about Konciousness, a one-day forum for high school students on body politics, sex education and issues of race, class, gender, sex and violence.
John Cardone '12, a major in sculpture in the College of Visual and Performing Arts and English and textual studies in The College of Arts and Sciences and a student in the Honors Program, worked with a third-grade class at Blodgett School in Syracuse (where 52 countries are represented and 60 percent of the students fall below the poverty line) to "sculpt" a community. The city has been his classroom during his time at SU. He founded the English tutoring program at Nottingham High School, has served as coordinator of the homework club at the Center for New Americans and is coordinator of the Mobile Art Literacy Bus.
Michael Hu '13, a biochemistry major in The College of Arts and Sciences, is president of the SU chapter of Learn to Be (LTB), a national foundation that enriches the lives of children in underserved communities through free online tutoring and academic resources. This year, LTB and the Say Yes Collegiate Prep Academy (SYCPA) have entered into a partnership to deliver online academic enrichment to Syracuse City School District high school students.
Ben Kuebrich, a Ph.D. student in the writing program in The College of Arts and Sciences, led a two-week intensive training for undergraduates on community organizing, which culminated in a two-day workshop for 25 community organizations in Syracuse. He is working with the Westside Residents' Coalition and with the Gifford Street Community Press on establishing a mission statement, editorial board and publishing the first book. Kuebrich helped to develop the Police Delegation Board and to publish "I Witness, Perspectives on Policing in the Near West Side," a book that brought together police and residents to talk about how crime should be managed in the neighborhood. He will spend the summer working to develop writing groups in the West Side neighborhood.
Rachel LaQuire '12, an international relations and sociology major in The College of Arts and Sciences, Crown Scholar and a student in The Honors Program, has traveled worldwide to study and work with nongovernmental organizations and learn about farming and preservation. She worked with the Missionaries of Charity tutoring children for one year before beginning her college career. She served this year as coordinator of the Center for New Americans and helped to launch a pilot tutoring program that serves recent refugees and immigrants. She also tutored in the Nottingham ESL program and the Breakfast Club at Levy Middle School.
Jonathan Nwosu '12, an international relations major in The College of Arts and Sciences and a student in The Honors Program, is a 2012 recipient of the Thomas R. Pickering Foreign Affairs Fellowship. He will work for the U.S. State Department this summer at the Saudi Arabia desk of the Bureau of Near Eastern Affairs. Nwosu helped spearhead the Hillside Work-Scholarship Connection. He has worked with the Above and Beyond Program, Say Yes to Education, the Boys and Girls Club and the High School Diplomats program.