SU, Anadolu University formalize student exchange agreement
A group of delegates from Anadolu University, Turkey, has concluded a visit to the Syracuse University campus with the formalizing of a student exchange agreement between the institutions.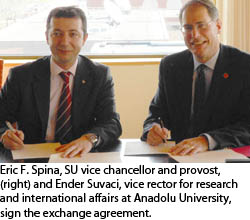 Anadolu is the primary institution in Turkish higher education and a world leader in open education systems, according to its literature. Known for its vision to become a world university and its expansive distance education programming, Anadolu has international exchange programs with leading universities throughout the world.
The visit by the seven Anadolu representatives "was a very successful one, where we discovered many synergies and made plans to work closely to create an innovative collaboration," according to Susan Corieri, associate dean of enrollment management at the School of Information Studies (iSchool). She coordinated the visit along with Can Isik, senior associate dean for academic and student affairs at the L.C. Smith College of Engineering and Computer Science (LCS).
The exchange agreement was initiated by an alumnus of LCS and former iSchool faculty member for distance courses, Ozgur Yilmazel. Yilmazel's ties to the iSchool also include his service as a former staff member at the Center for Natural Language Processing and his affiliation with Isik and Elizabeth Liddy, his doctoral program faculty advisers. Yilmazel is now director of information technology for Anadolu University. Liddy is now dean of the iSchool.
Delegates were welcomed to campus by Liddy and LCS Dean Laura Steinberg. They also met with SU Provost and Vice Chancellor Eric Spina, held discussions with a number of SU representatives and toured a wide range of academic facilities and institutes during their three-day visit.
The Anadolu group included the university's dean for the engineering faculty (Tuncay Dogeroglu); dean of the faculty of science (Ertugrul Yorukogullari); department chair for materials engineering (Ersan Putun); vice rector for research and international affairs (Ender Suvaci); coordinator for international academic programs (Ozgur Yildirim); and department chair for languages (Zulal Balpinar).
SU officials involved in the meetings included officials representing the School of Education; English Language Institute; Burton Blatt Institute; the Office of Enrollment Management; Slutzker Center for International Services; SU Abroad; and The College of Arts and Sciences. The Anadolu group toured the Tech Garden, the SyracuseCoE, the Environmental Labs, the Green Data Center and the Biomaterials Institute.
iSchool representatives meeting with the group also included Ian MacInnes, associate dean for academics ; Steve Sawyer, associate dean of research; Kathy Allen, executive director of special academic program initiatives; David Dischiave, professor/program director for Global Enterprise Technology; and Art Thomas, professor and incoming program director for MS/Information Management and MS/Telecommunications & Network Management. James Powell, instructional technology analyst, led the group on a tour of Hinds Hall.
Anadolu University is comprised of seven schools, nine graduate schools and institutes, 12 faculties and 39 research centers. It has 47 distance education programs and houses about 40 companies within its "Technocity" technology park on campus. Currently about 1.3 million students are enrolled online worldwide, and there are about 25,000 students studying on its campuses. Its main facility is located in the city of Eskisehir.