'I Like America and America Likes Me' at XL Projects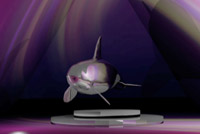 Artwork of international graduate students in Syracuse University's College of Visual and Performing Arts (VPA) will be featured in the exhibition "I Like America and America Likes Me," March 7-April 1 at XL Projects, 307–313 S. Clinton St., Syracuse. The show is free and open to the public. A reception will be held Thursday, March 29, from 6-8 p.m. Regular exhibition hours are Wednesday-Sunday, noon-6 p.m.
The graduate students, who are from VPA's School of Art and Design, will exhibit work in a variety of media.
For more information, contact Andrew Havenhand at ahavenhand@yahoo.com. XL Projects may be contacted at 315-442-2542 during gallery hours.