Urban Video Project to feature world premiere video by William Wegman at Everson site
Artist talk will be Tuesday, April 10, at 6:30 p.m., at Everson Museum of Art auditorium
For the months of March–May, Urban Video Project, Light Work and the Everson Museum of Art will present the video "Flo Flow" (2011) by William Wegman. It will be the world premiere of the video, which was created specifically for UVP.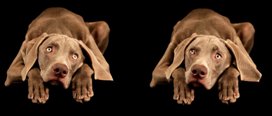 "Flo Flow" is Wegman's latest in a long line of human-canine collaborations. It was while he was in Long Beach, Calif., in the 1970s that Wegman got his dog, Man Ray, with whom he began a fruitful collaboration of many years. Man Ray, known in the art world and beyond for his endearing deadpan presence, became a central figure in Wegman's photographs and videos. Ever since, Weimaraner-actors have peopled Wegman's uncanny imaginative universe, a reflection on both the humanness of 'animals' and the strangeness of humans.
Wegman was born in 1943 in Holyoke, Mass. He received a B.F.A. in painting from the Massachusetts College of Art, Boston, and an M.F.A. in painting from the University of Illinois, Champagne-Urbana.
By the early 1970s, Wegman's work was being exhibited in museums and galleries internationally. In addition to solo shows with Sonnabend Gallery in Paris and New York, Situation Gallery in London and Konrad Fisher Gallery in Dusseldorf, his work was included in such seminal exhibitions as "When Attitudes Become Form" and "Documenta V," and regularly featured in "Interfunktionen," "Artforum" and "Avalanche." Wegman lives in New York and Maine, where he continues to make videos, take photographs and make drawings and paintings.
UVP is a multimedia public art initiative of Light Work and Syracuse University that operates several electronic exhibition sites along the Connective Corridor. The mission of UVP is to present exhibitions and projects that celebrate the arts and culture of Syracuse and engage artists and the creative community around the world. Light Work and UVP work closely with collaborative partner Everson Museum of Art in determining exhibitions and programming for that site. 
Light Work is a nonprofit, artist-run organization dedicated to the support of artists working in photography and electronic media. Light Work and UVP are members of CMAC, the Coalition of Museum and Art Centers at Syracuse University.
For more information, contact Jessica Reed at Light Work, 315-443-1300 or jhreed01@syr.edu.