Takesue's Ugandan feature documentary to have New York theatrical premiere March 2-8
"Where Are You Taking Me?," a feature documentary by Kimi Takesue, assistant professor of film in the College of Visual and Performing Arts' Department of Transmedia, will have its theatrical premiere March 2-8 at Anthology Film Archives, 32 Second Ave. (at 2nd St.), New York City. For ticket information, visit http://anthologyfilmarchives.org.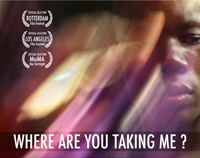 "Where Are You Taking Me?" had its world premiere at the 2010 Rotterdam International Film Festival and North American premiere in the Documentary Competition at the 2010 Los Angeles Film Festival, where it was a Critics' Pick by LA Weekly. The film, which was described by Variety as "Beautifully meditative … an uplifting observational documentary that plays on seeing and being seen," was recently acquired by Icarus Films.
Employing an observational style, "Where Are You Taking Me?" reveals multifaceted portraits of Ugandans in both public and private spaces. The film travels through Uganda, roaming the vibrant streets of Kampala and the rural quiet of the North, to reveal a diverse society where global popular culture finds expression alongside enduring Ugandan traditions.
Throughout the journey, "Where Are You Taking Me?" asks us to consider the complex interplay between the observer and the observed and challenges our notions of both the familiar and exotic. "Where Are You Taking Me?" offers unexpected images of a complex country, encouraging us to abandon pre-conceived notions of where we are going and what we will find.