Walmart India's Raj Jain to lecture at Whitman School March 5
As part of the Whitman School of Management's Jonathan Holtz Global Speaker Series, Raj Jain, president of Walmart India and managing director and CEO of Bharti Walmart Pvt. Ltd., will speak on Monday, March 5, at Whitman's Lender Auditorium, room 007. The event will begin at 12:45 p.m., with a reception to follow, all of which is open to the public.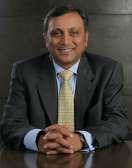 Jain's lecture, titled "Building Global Organizations," will look at the negative impact of monetizing investments just on cash-n-carry.
He joined Walmart in Shanghai, China, as president of emerging markets for Walmart International in 2006. After spearheading Walmart's entry into India, he relocated back to India in 2007 to head the Joint Venture with Bharti.
Prior to joining Walmart, Jain was regional head for marketing and supply chain for the Asia Pacific at Whirlpool Corp. in Shanghai. During his 10 years at Whirlpool, he also served as managing director and CEO of Whirlpool of India Ltd.
Jain started his career at Unilever as a management trainee. His successful and distinctive career spanning more than 16 years in Unilever in India and the United Kingdom included several key managerial positions in sales, marketing and supply chain.
The Jonathan Holtz Global Speaker Series is made possible by Holtz, a 1978 graduate of the Whitman School who is chairman and CEO of Win-Holt Equipment Group in Garden City, N.Y.
For more information on the event, call 443-9141.