Arts & Culture
'The Lower Depths': Provocative portrait of outcasts from master of Russian realism
A masterpiece of Russian realism, "The Lower Depths," was Maxim Gorky's first great play, and its premiere production in 1902 helped establish the reputation of the famed Moscow Art Theatre and its influential director, Constantine Stanislavsky.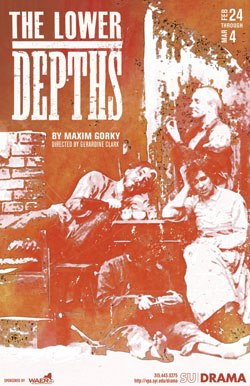 Presented by the Department of Drama in Syracuse University's College of Visual and Performing Arts, and directed by Gerardine Clark, "The Lower Depths" runs Feb. 24—March 4 in the Storch Theatre, 820 E. Genesee St. Tickets are $16-$18, available at 315-443-3275 or by visiting vpa.syr.edu/drama. SU Drama's season sponsor is WAER 88.3.
In the cave-like basement of a run-down boarding house, a disparate group of bosyák (literally, the barefoot)—outcasts, petty criminals and day laborers—negotiate days lived between harsh truth and consoling lies. With little hope or light in their lives, Gorky's finely detailed and psychologically rich characters manage to celebrate what Stanislavsky called the play's spiritual essence: "freedom, whatever happens!"
Like the works of Chekhov, "The Lower Depths" was born out of a movement toward realism—an effort to make theatrical works more like real life with the hope of bettering mankind.
"This piece requires great imagination, exertion and discovery on the part of our student cast, designers and crew. It stretches them in every way," says director Clark.
The characters in "The Lower Depths" are based on Gorky's real life experiences, or those of his relatives.
"The characters have nothing or close to nothing, but they have passion," says Clark. "They are people who fell on hard times, and yet they are doing the best they can to be alive in the world every day."
Upon revisiting the script, Clark found great relevancy to today's economic climate.
"I hope the play makes people think about shouldering their fair share of the burden," says Clark. "I hope it inspires people to be generous-spirited. I hope the play teaches people not to be afraid to help people. People who have fallen on hard times are not bad or lazy or frightening."
Gorky himself suffered firsthand many of life's hardships, starting in childhood, which he described as "dull savagery" filled with violent family feuds and persistent hunger. At age 19, he attempted suicide.
But Gorky's passion for writing became a source of freedom. "Gorky was governed," wrote one contemporary, "by an unbounded passion for the creative work." He believed writing offered opportunities for even the "lower strata men" to "aspire more fervently to a great and expanded life and to freedom … to communicate their new thoughts, to encourage their weary fellow creatures and to appreciate this poor world."