SU Sport Management Club makes $30,444 gift to Upstate Cancer Center
Since its founding in 2005, the Syracuse University Sport Management (SPM) Club, a student-run organization in the Falk College's Department of Sport Management, has donated nearly $155,000 to Central New York charities. As a result of its most successful annual sport auction to date in December 2011, the SPM Club made a $30,444 gift to the Upstate Cancer Center at Upstate Medical University.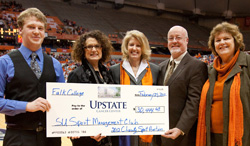 The presentation was made at the Syracuse University men's basketball game against the University of South Florida on Feb. 22. The SPM Club's donation will help fund both a patient nourishment station that will serve patients who are receiving infusion as well as their families, and a two-sided fireplace in the main waiting area for radiation oncology.
"The entire Upstate Cancer Center is thankful for the donation by the SU Sport Management Club. We value their contribution and are grateful that this group led by committed, enthusiastic students acknowledges that patient-centered care will be the focus in our new Cancer Center," says Leslie Kohman, SUNY distinguished service professor, medical director, Upstate Cancer Center. "Support such as this will help us to provide the best patient- and family-centered cancer care at Upstate in a beautiful setting combined with leading-edge cancer treatments."
Slated to open in 2013, the Upstate Cancer Center will be the region's most comprehensive resource for the prevention, early detection, diagnosis, treatment and survivorship of cancer and related disorders. Upstate is also the only place in Central New York that cares for children with cancer.
"Each year our students exceed expectations, but their hard work, the donations and in-kind services of literally hundreds of companies, and the support of SU fans who generously bid on more than 444 items that were available, made this year's event a truly special one," says Kate Veley, manager, career center and event planning, Department of Sport Management, and the 2011 auction chair.
Other local charities supported by the SPM Club's auction proceeds in previous years have included the Syracuse Boys and Girls Clubs, the American Diabetes Association of Central New York, the Upstate Golisano Children's Hospital, the CNY SPCA and Ronald McDonald House Charities of CNY.
The SPM Club has been annually recognized since its inception in 2006 with a Chancellor's Award for Public Engagement and Scholarship, and received the inaugural 2009 Orange Circle Award from the SU Alumni Association to honor SU alumni, friends, faculty, staff and students who have achieved extraordinary accomplishments in support of others.