Campus & Community
Secure 'cUse is Here!
Secure'cUse, ITS's security awareness and training program for SU students, faculty and staff is up and running online and in print. The program will help the SU community understand the risks to individual identity and data as well as to SU's information assets as a consequence of living in a connected world.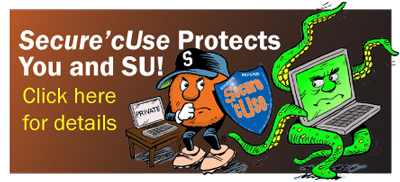 "The users of SU's various networks and computing services are the front lines in our defense against information security threats," said Christopher Croad, SU's director of information security. "Secure'cUse is designed to enable students, faculty and staff to recognize and make the right choices when it comes to protecting our digital systems and identities."
The program focuses on six topics: preventing device theft, preventing identity theft, social media awareness, computer viruses, copyright infringement and password safety. The first two topics are now available at http://SecurecUse.syr.edu. The site has articles and tips for students, faculty and staff, as well as downloadable fact sheets and posters to print, hang up or hand out. Secure'cUse's live Facebook feed is available, as are live updates from The National Cyber Alert System operated by the United States Computer Emergency Readiness Team.
The campaign has spread across campus with the first two topics featured in posters and digital signs in residence halls, Bird Library, recreation facilities and other buildings. The upcoming Connection Clinics in the residence halls, run by the ITS Service Center, will focus on identity and device theft.
Follow Secure'cUse right now on Facebook and Twitter for tips and advice for keeping information safe and to be informed of internet scams.
For more information contact Mani Gauri at 315-416-3359 or mkanika@syr.edu .