Arts & Culture
VPA's John Laverty produces new album 'Rock Stars,' featuring two renowned musicians
John Laverty, professor of applied music and performance in the College of Visual and Performing Arts' Rose, Jules R. and Stanford S. Setnor School of Music, has produced the new album "Rock Stars" on Mark Records, which features soloists Joseph Alessi on trombone and Stanley Drucker on clarinet, both of whom are renowned musicians and principal players with the New York Philharmonic. Alessi and Drucker perform on the album with the University of Florida Wind Symphony with David A. Waybright, conductor.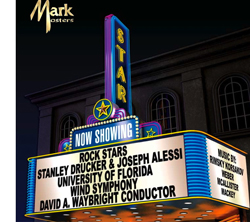 "Rock Stars" features music by Rimsky-Korsakov, Weber, McAllister and Mackey. Drucker recorded one of Laverty's arrangements on the album.
Laverty is a versatile musician and an accomplished recording producer and arranger. As a recording producer, he is a voting member of the National Academy of Recording Arts and Sciences with 43 recordings to his credit. He has recorded with such acclaimed musicians such as Andy Russo, Corey Cerovsek, Ursula Oppens, Vince DiMartino, Rob Parton, Scott Hartman, John Daniel and Todd Reynolds. In 2007, Russo's "Corigliano Violin Sonata Etude Fantasy" (Black Box) with Cerovsek received a Grammy nomination in the Best Chamber Music Performance category. Other credits include Boston Brass' "Ya Gotta Try" (Summit Records), a collaboration with jazz recording legend Rudy Van Gelder and the first recording of Kurt Vonnegut's libretto for Igor Stravinsky's "Histoire du Soldat" (Summit Records). His recordings are available from the Mark Records, JVC-Victor, Centaur, Gazebo, Raven, MSR Classics and Endeavour Classics labels.