Paul Taylor Dance Company to perform March 2
Syracuse University's ArtsEngage will welcome the Paul Taylor Dance Company for an evening of modern dance at 7 p.m. Friday, March 2, in the Crouse-Hinds Theater in the James H. Mulroy Civic Center, 800 S. State St.
The evening's performance will include choreography set to the music of the Andrews Sisters, the St. Louis Melody Museum collection of band machines and House of Joy and Bach's Brandenburg Concertos.
Admission is free, but attendees should RSVP to SUartspresenter@syr.edu or call 315-443-0296 with party size and name.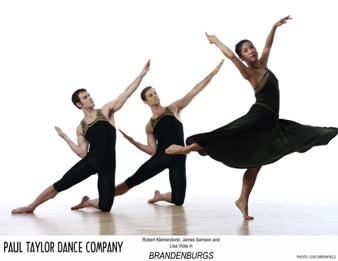 The Paul Taylor Dance Company, now in its 55th year, is highly respected around the world. Taylor's love for music began at Syracuse University in the late 1940s, when he discovered dance in books at the school library. A short while later, he transferred to the Juilliard School. By 1954, he had assembled a small company of dancers before joining the Martha Graham Dance Company in 1955 as soloist for seven seasons while also choreographing his own small troupe. In 1959, he was invited by Balanchine to be a guest artist with New York City Ballet. In 1993, Taylor created the Paul Taylor Dance Company and Taylor 2, which have traveled the globe. The company has performed in more than 500 cities in 62 countries and in theaters and venues of every size and description in cultural capitals, college campuses and rural communities.
ArtsEngage is part of Syracuse University's Office of the Arts Presenter and inspires SU and the surrounding Syracuse community through diverse performance art. The 2011-2012 season has included David Sedaris, Buglisi Dance Theatre, Harlem stride pianist Stephanie Trick, Kronos Quartet, eighth blackbird and more. ArtsEngage also collaborates with Syracuse Stage and Ping Chong & Company in the ongoing creation of "Cry for Peace: Voices from the Congo," a documentary theater production based on the stories of CNY Congolese refugees.
For questions, email SUartspresenter@syr.edu or call 315-443-0296.