Warehouse Gallery exhibition to address challenges of making art in time of tragedy
This spring, the Warehouse Gallery presents "Noriko Ambe: Inner Water," an installation addressing the challenges of art-making in the aftermath of tragedies and disasters such as the earthquake, tsunami and subsequent nuclear crisis in Japan on March 11, 2011. The exhibition is intended for audiences of all ages. All events are free and open to the public.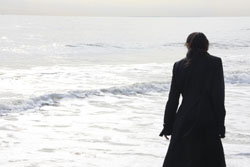 The exhibition will be on view March 1-May 12. A roundtable discussion on "Disaster, Memory and Art Making" will take place March 1 at 7 p.m. in the Warehouse Auditorium. A public reception for the exhibition will take place March 1 from 5-8 p.m.
In her first United States museum solo show, New York City-based Japanese Ambe has created a new site-specific installation reflecting on the tragic events of 2011 in Japan through the use of video projections and her signature large-scale paper cutouts (on the floor, the walls and columns) that evoke waves. The artist worked for several months in her studio to complete the sculptures and was assisted on site by industrial design students from SU's College of Visual and Performing Arts, the SU Engagement Fellows and the Warehouse Gallery's assistants, interns and professional team.
Nature plays an important role in Ambe's work and it points to larger issues such as the natural forces determining the global landscape, and the relationship between nature and the human throughout time. A recipient of prestigious awards such as the AICA Award and Pollock-Krasner Foundation, Ambe's work has been exhibited nationally and internationally, including at the Museum of Arts and Design and the Japan Society in New York, and the Kyoto University of Art and Design in Japan. She is a significant rising artist whose work is in many collections, including the Whitney Museum of Art, New York.
A gallery guide accompanies the exhibition with an essay by Anja Chávez. The catalog will be available at the gallery and online beginning March 16.
Born in Saitama, Japan, and based in New York City, Ambe received her B.F.A. in oil painting from Musashino Art University, Tokyo, in 1990. She is the recipient of many prestigious fellowships and awards whose work has been widely exhibited throughout Asia (Dojima River Forum, Osaka; 21_21 DESIGN SIGHT, Tokyo; the Tokyo Metropolitan Art Museum; and SCAI THE BATHHOUSE, Tokyo), the United States (Albright-Knox Art Gallery, Buffalo; Japan Society, New York; Minneapolis College of Art and Design; Museum of Arts and Design, New York; and The Drawing Center, New York), and Europe (Berardo Collection Museum, Lisbon; and the Museum Rijswijk, Rijswijk, Netherlands).
Also at this time, The Warehouse Gallery Window Projects features "Chaz Griffin: The History of Silence," on view March1-May 12. Syracuse-born Griffin studied at the Fashion Institute of Technology in New York City and currently lives in Syracuse. For the Window Projects space, he has chosen to greet commuters and passers-by with three large digital prints, covering the Warehouse Gallery's three front windows, that are partially autobiographical collages (using Photoshop and Illustrator). Consisting of the artist's own writings and digitally manipulated images of himself and others, Griffin's work addresses the issue of youth in 21st century urban environments. This is his first solo exhibition.