Newhouse School symposium to examine media coverage of sports scandals
The daylong event will be held on campus Feb. 23
Syracuse University's S.I. Newhouse School of Public Communications will host a daylong symposium examining the media's role in covering allegations of misconduct in college athletic programs. "When Games Turn Grim: Can Media Cover Sports Scandals Responsibly?" will be held Thursday, Feb. 23, from 10 a.m. to 5 p.m. in the Joyce Hergenhan Auditorium in Newhouse 3. The event, which will consist of a series of four panel discussions, will be webcast live at http://sportsandscandal.syr.edu. Follow on Twitter at #sportscandal.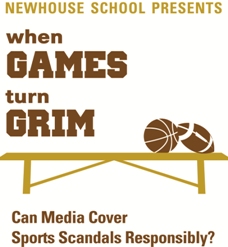 "We'll look at 'the story behind the story,'" says Steve Davis, chair of newspaper and online journalism at Newhouse and organizer of the event. "We'll examine our response to these events as media and communications professionals—what kinds of things do we get wrong? What do we get right? We hope to sort out and make sense of these complex and challenging stories." 
The symposium begins at 10 a.m. with welcoming remarks by Newhouse Dean Lorraine Branham. 
The first panel, "The Journalists," will feature a discussion by key journalists who have worked on these kinds of stories. Panelists include Michael J. Connor, executive editor of The Post-Standard, Jeff D'Alessio, special assistant to the CEO, Sporting News; Mike McAndrew, reporter and editor with The Post-Standard; David Newhouse, editor of The Patriot-News (Harrisburg, Pa.); Pete Thamel '99, college sports reporter with The New York Times; and Vince Doria, senior vice president and director of news with ESPN. Moderator is Joel Kaplan, associate dean for professional graduate studies at Newhouse.
After a break, the event will resume at 1 p.m. with remarks from Davis. 
The second panel, "The Advocates," will examine how well prepared the media is to responsibly cover stories with sensitive subject matter. Panelists include Robert Hoatson, executive director of Road to Recovery; Katherine Redmond, founder of the National Coalition Against Violent Athletes; Julie Cecile G'91, executive director of McMahon/Ryan Child Advocacy Center in Syracuse; and Allison Young, director of sexual abuse services with Elmcrest Children's Center in Syracuse. Moderator is Aileen Gallagher, assistant professor of magazine journalism at Newhouse. 
Beginning at 2:30, the third panel, "The PR Professionals," will focus on how public relations professionals balance obligations to clients, accusers and victims, and the public. Panelists include Leland Bassett, chairman and CEO of Bassett and Bassett Incorporated, Communications Managers and Counselors; Keith Burton, president of Insidedge; Gary Grates G'99, principal of WCG Worldwide; and Kelly Rossman-McKinney, CEO and principal, Truscott Rossman. Moderator is Brenda Wrigley, chair of public relations at Newhouse. 
The fourth panel, "The Ethicists," will begin at 3:50 p.m. Panelists include David Rubin, professor and dean emeritus of Newhouse School; Tom Rosenstiel, director and founder of the Project for Excellence in Journalism; and Robert Steele, professor and director of the Janet Prindle Institute for Ethics at DePauw University. Branham is moderator. 
Each panel will conclude with a question-and-answer session. A reception will follow the symposium. 
The event is free and open to the public. Parking is available in SU pay lots. For more information about the event, see http://sportsandscandal.syr.edu or contact Kristen Northrop at (315) 443-7358 or kmnorthr@syr.edu, or Jessica Tarrats at (315) 443-1944 or jtarrats@syr.edu.