Arts & Culture
'Red,' sizzling bio-drama of famed painter Mark Rothko, to run at Syracuse Stage March 7-25
Play won 2010 Tony Award for Best Play
The 2010 Tony Award-winner for Best Play, 'Red' is an intense and exciting bio-drama of the famed abstract expressionist painter Mark Rothko at the time that he was working on a commission for a series of murals for New York's Four Seasons restaurant. On paper, the play has two characters, Rothko and a young assistant. On stage, the paintings themselves become characters, adding a stunning visual presence and making palpable the intense physical process of the art. As Rothko and his young protégé prepare paint and canvas and assess and reassess each work, they engage in a combative struggle over the methods and purpose of art that is sharp, funny and mentally invigorating.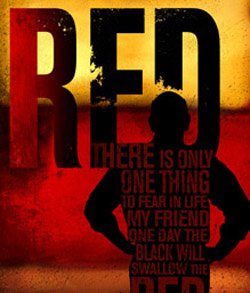 Running March 7-25, 'Red' will be performed in the Archbold Theatre at Syracuse Stage, 820 E. Genesee St. Tickets range $18-$50 and are available at the Syracuse Stage Box Office, 315-443-3275 or www.SyracuseStage.org.
The presenting sponsor is The Dorothy and Marshall M. Reisman Foundation. Sponsors are KeyBank and Tompkins Financial Advisors, with additional support from the Grandma Brown Foundation. Media sponsors are Clear Channel Media and Entertainment, and the Syracuse New Times. Syracuse Stage's 2011-2012 season sponsors are The Post-Standard and Time Warner Cable.
Playwright John Logan—whose screenplays include "Hugo," "Gladiator," "Rango," "Coriolanus" and the latest James Bond, "Skyfall"—has said that "Red" was inspired by Rothko's art itself. He was working on a film in London when he visited the Tate Modern, where several of the Rothko murals are displayed. He was struck first by how deeply moving he found the canvases, and second, by how other patrons disparaged them as shallow and meaningless. The contrast inspired him to find out more about Rothko.
"He believed that art matters," Logan said in a televised interview with Charlie Rose. "Rothko was much more concerned with being listened to and understood than being liked. He asked that we put a little care and effort into viewing his work."
Penny Metropulos ("Picasso at the Lapine Agile" and "Up") returns to Syracuse Stage to direct Logan's play after recently winning multiple Joseph Jefferson awards for her production of "Madness of George III" at the Chicago Shakespeare Theatre. For Metropulos, the key to "Red" is the passion that drives the characters, and the very real human need to connect, an idea, she says, that is contained in the play's first line: "What do you see?"
"We're always trying to know if the other person sees the world the same as we do," she explains. "It's about connection. This artist more than anything wants the viewer to connect with his art in the same way that he connects to music. It's a spiritual connection. What happens in the play is, an unknown need to connect with this young man overtakes him. And the young man has a need to connect with him as an artist and as a mentor."
Rothko will be played by veteran actor Joseph Graves, who is the artistic director of Peking University's Institute of World Theatre and Film in Beijing, China, where he has directed and/or produced 70 plays, including many Chinese premieres of Western plays. As an actor, Graves is well known in Great Britain and the United States for Shakespearean roles such as Macbeth, King Lear, Richard III, Richard II, Titus, Timon, Antony, Falstaff, Hamlet and Romeo.
Rothko's assistant, Ken, will be played by Matt Amendt, whose credits include "Henry V," "Peer Gynt," "The Merchant of Venice," "The Great Gatsby," "Hamlet," "As You Like It" and "Death of a Salesman," all at the acclaimed Guthrie Theatre in Minneapolis.
Mark Rothko (originally named Marcus Rothkowitz) was born in Russia and came to the United States with his family in 1913. After dropping out of college, he moved to New York, where a chance invitation brought him to a drawing class at the Art Students League, where he discovered his love of art.
Rothko painted in a figurative style for nearly 20 years, his portraits and depictions of urban life baring the soul of those living through the Great Depression in New York. In the 1930s, Rothko exhibited with The Ten, a close-knit group of nine American painters, which provided an important incubation for the abstract expressionist school to come. In the 1940s, Rothko moved to pure abstraction, which ultimately led to his signature style of two or three rectangles floating in fields of saturated color in 1949.
Beginning in the early 1950s Rothko was heralded, along with Jackson Pollock, Willem deKooning, Franz Kline and others, as the standard bearers of the New American Painting—a truly American art that was not simply a derivative of European styles. A major figure in New York's abstract expressionist movement, Rothko has been the subject of retrospectives at the Museum of Modern Art, the National Gallery of Art, the Guggenheim Museum, and other major museums around the world.