IVMF issues weekly research briefs highlighting veteran-related articles on variety of topics, calls for submissions
The Institute for Veterans and Military Families (IVMF) at Syracuse University has begun publishing IVMF Research Briefs on a weekly basis. Theses briefs highlight the most cited and most recent articles pertaining to veterans in the areas of wellness, family, employment and education. The focus is on actionable research that may impact policy and practice when in the hands of those working in these areas, and on identifying needs for further research.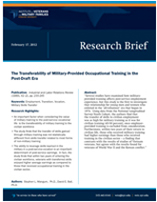 Briefs include publication title and author information, keywords, research highlights, article abstract and implications of the research for practice, policy and future research. IVMF Research Briefs are being read by members of the veteran and military families' community, including policymakers, educators and practitioners, to better understand veterans in an effort to address the primary concerns of the nation's servicemen and women and their families. An online archive of IVMF Research Briefs is available on the institute's website at http://vets.syr.edu/research/researchbriefarchive.html. As a hub of information, the archive provides the newest and most relevant articles.
The IVMF invites authors/researchers to submit veteran-related articles for review and inclusion in the research brief archive. Submissions are accepted via an online form.  IVMF researchers will prepare the research brief based on the submitted information, and provide an opportunity for review by the authors prior to inclusion in the archive. Directions and requirements for submission are included on the form.
Questions about IVMF research briefs may be directed to Rosalinda V. Maury, IVMF director of research, at 315-443-0172 or rvmaury@syr.edu. Media inquiries about the briefs may be directed to Jaime Winne Alvarez, IVMF media relations & communications director, at 315-443-0177 or jlwinne@syr.edu.